The Remote Gardens and Pavilions of Versailles
Set far back in the grounds of Versailles are the refined gardens and pavilions of…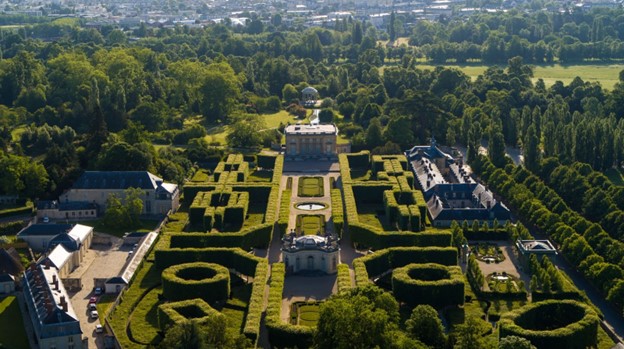 Set far back in the grounds of Versailles are the refined gardens and pavilions of the Petit Trianon. Together, they show how European garden design transitioned in the 1700s with two contrasting styles: On the west side, there's a calm yet uplifting formal French garden, and on the east side, a romantic and picturesque English landscape.
The French garden style was originally inspired by the classical harmony and order of the Italian Renaissance. The Petit Trianon Garden displays this in the calm horizontal lines of the Linden trees as the rhythm of their trunks provides a sense of stability, while the geometry of the pavilions, the linear promenade, and circular ponds create order.
The colorful, aromatic flower beds nourish that inner realm. The linear approach frames and presents both the French Pavilion and the Petit Trianon's elegant west façade. Both buildings were designed by Ange Jacques-Gabrielle in a simple classical style that would later be known as Neoclassical.
Louis the XVI ascended the throne in 1774; he soon married the young Marie Antoinette and gifted her with the Petit Trianon. Marie was instrumental in the design of the English gardens and pavilions. This style was based on recreating an idyllic and pastoral landscape similar to those depicted in English and French landscape paintings.
This romanticized view of nature was in effect a gentle revolt against the calm order of the formal garden. The English garden also combined components imported from China.
Louis XV's large botanical gardens that stood on the grounds were removed to make way for the new garden design. Marie and her official architect, Richard Mique, developed two pavilions, the Love Pavilion and the Belvedere. Although the two garden styles greatly differ, they inspire awe in their respective domains and create a harmonious setting for those who visit.