The Best Home Gadgets of CES 2023
The Consumer Electronics Show (CES) is where the world's best electronics brands go to show…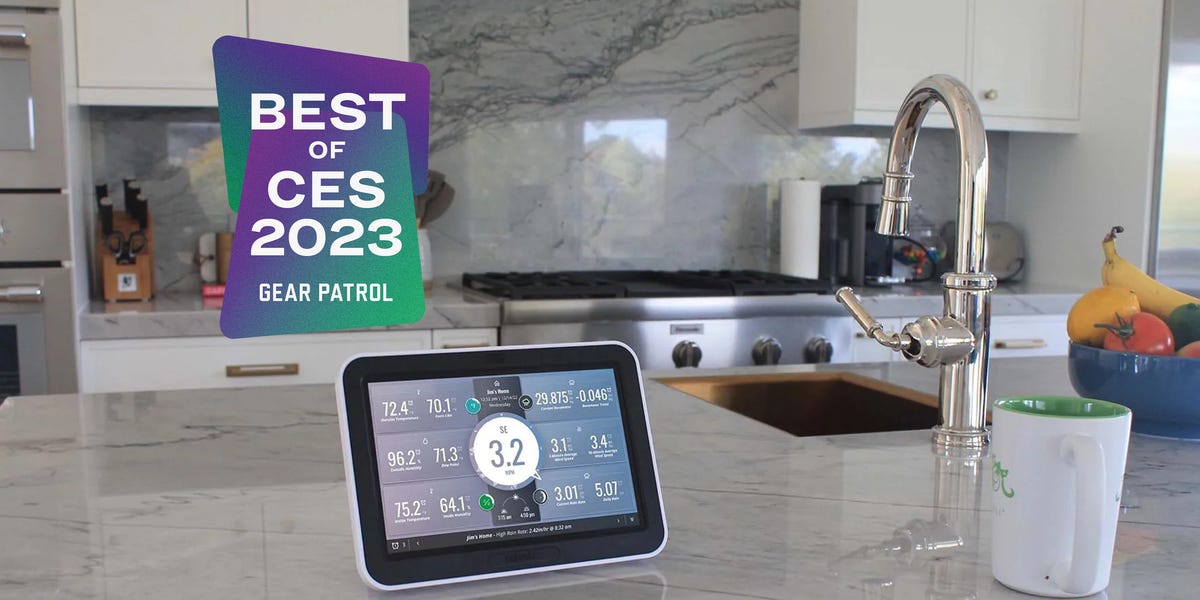 The Consumer Electronics Show (CES) is where the world's best electronics brands go to show off their latest tech, and while flashy TVs, computers and phones tend to get the most attention, the event is also a killer showcase for the latest home goods. From smart home tech to a stroller that can drive itself, we've selected our favorite home gadgets from CES 2023 below.
Samsung Bespoke AI Oven
Samsung added to its Bespoke line of high-end kitchen appliances with the AI Oven. This smart oven features AI tech called Sense Inside that works in conjunction with an in-oven camera to recognize 80 different ingredients and recipes, notify you if your food starts to burn and can even livestream your cooking to social media.
Availability: Q3 2023
Price: TBD
LEARN MORE
Fellow Opus Grinder
Fellow addressed its lack of an espresso grinder by unveiling the Opus, a new grinder from the brand that can grind fine enough for espresso. The Opus uses conical burrs rather than the flat burrs of Fellow's existing Ode grinder, and it features a full 41 settings capable of grinding coffee for everything from fine espresso to coarse grounds for cold brew.
Availability: February 2023
Price: $195
LEARN MORE
Moen Smart Sprinkler System
Moen is making it easier to manage your lawn with a new smart sprinkler system. The multi-part system consists of the Moen Smart Sprinkler Controller and Smart Wireless Soil Sensors (sold separately). The Smart Sprinkler Controller offers greater control over your home's irrigation, allowing you to set up and control different zones through the Moen Smart Water app. The Soil Sensors offer additional autonomy, as they automatically measure your soil's moisture levels and communicate with the controller on optimal watering schedules.
Availability: February 2023
Price: $70 per Soil Sensor, Sprinkler Controller starts at $180
Nanoleaf Sense+ Controls & Skylight
Nanoleaf was already one of the biggest names in the smart lighting game, and now they're further distancing themselves from the pack with the reveal of their new Sense+ Controls platform. The Matter-enabled system runs on Thread and consists of the Smart Light Switch, Wireless Smart Light Switch and Nala Learning Bridge, all of which boast motion- and ambient lighting sensors. The system, working with Nanoleaf's new AI assistant Nala, promises to learn your routine and eventually automate your lighting without any input from you. Also announced is the Skylight, which sees Nanoleaf move its trademark modular lighting panels to the ceiling in a new flush mount fixture.
Availability: Q3 2023
Price: TBD
LEARN MORE
Rachio Smart Hose Timer
Already the maker of a popular Smart Sprinkler Controller, at CES Rachio unveiled a Smart Hose Timer that will transform any ordinary garden hose into a smart irrigation system. The $100 device allows you to set and control different watering routines from your phone, and it will even automatically skip watering if there's rain in the forecast.
Availability: March 2023
Price: $100
Kaltech Yuragi Junsui Premiere Humidifier
Kaltech has debuted what they claim is the world's first photocatalytic humidifier. The appliance uses a dual filter system to eliminate chlorine and other minerals, along with photocatalytic plates that use light to eliminate bacteria. The appliance doesn't require distilled water, just regular tap water, and promises to transform hard water to soft. It's also being marketed as a beauty device and includes an atomizer attachment for misting one's face.
Availability: 2023
Price: TBD
GlüxKind Ella Stroller
This was one of CES 2023's biggest showstoppers, earning an Innovation Award. It's an AI-powered self-driving stroller that seems destined to become the new status symbol among well-heeled parents. Not only is the stroller capable of driving on its own, but it also features innovative features like a smart brake that will keep it from running away once the parent is out of reach and a rocking feature with built-in white noise to rock your little one to sleep.
Availability: April 2023
Price: $3,800
Bird Buddy Hummingbird Feeder
Bird Buddy's smart camera-equipped bird feeder is one of the cutest pieces of tech on the market, and now they've upped the adorable factor by focusing on arguably the cutest bird of all: hummingbirds. Bird Buddy's prototype hummingbird feeder is equipped with motion sensors and will capture photographs and videos of 350 different species of hummingbird — and identify them — with wing speeds up to 60 mph.
Availability: TBD
Price: TBD
Kohler Sprig
Not content with merely debuting a new product or two, Kohler launched a whole new brand at CES 2023 (along with a slew of new products, to be fair). Sprig is Kohler's new wellness brand that aims to turn your ordinary daily routines into healing, renewing rituals. The fledgling sub-brand's flagship product is the Shower Infusion Kit, which attaches to your existing shower head and infuses the water with Sprig's botanical infusion pods, which offer aromatherapy to help you sleep, recharge and more.
Availability: May 2023
Price: $139
Davis WeatherLink Console
Davis's weather stations have helped people gain better insight into their local forecasts for years, but their monochrome LCD look was … a bit dated. Now, the brand has unexpectedly launched the WeatherLink Console, a full-color, touchscreen, WiFi-connected smart device that rockets the brand into the 2020s. Working in conjunction with your Davis Vantage Pro2 or Vantage Vue sensor, the WeatherLink Console provides a hyperlocal forecast, offering a customizable home screen that can display up to 21 parameters at a glance.
Availability: February 2023
Price: $395
LG MoodUp Refrigerator
LG first displayed their color-changing fridge last fall in Berlin at IFA 2022, but now the party-ready appliance is turning heads stateside at CES. The four-door fridge features four LED panels, one covering each door, that can display a total of 190,000 different color combinations. The 21-cubic-foot fridge also boasts a built-in Bluetooth speaker for streaming music, and you can have the colors sync up with your tunes. As a special treat for CES, LG announced a partnership with Pantone where they have added the brand's 2023 Color of the Year — Viva Magenta — to the MoodUP fridge.
Availability: TBD
Price: TBD
LEARN MORE
Masonite MPwr Smart Door
Why outfit your door with a smart camera and smart lock when you can just buy a new door with everything built in? That's the idea behind Masonite's new MPwr Smart Door, which incorporates built-in LED lighting, an integrated Ring Doorbell Cam, a Yale Smart Lock and other nifty tech that threatens to make all other front doors obsolete. The door even includes a backup battery for when the power goes out, and Masonite says it will arrive in Home Depot later this year.
Availability: 2023
Price: TBD