Mr. Handyman provides in-home solutions for those aging-in-place
Katie Burke, marketing representative, and Michael Campbell, owner, of Mr. Handyman Central-MetroWest at their office…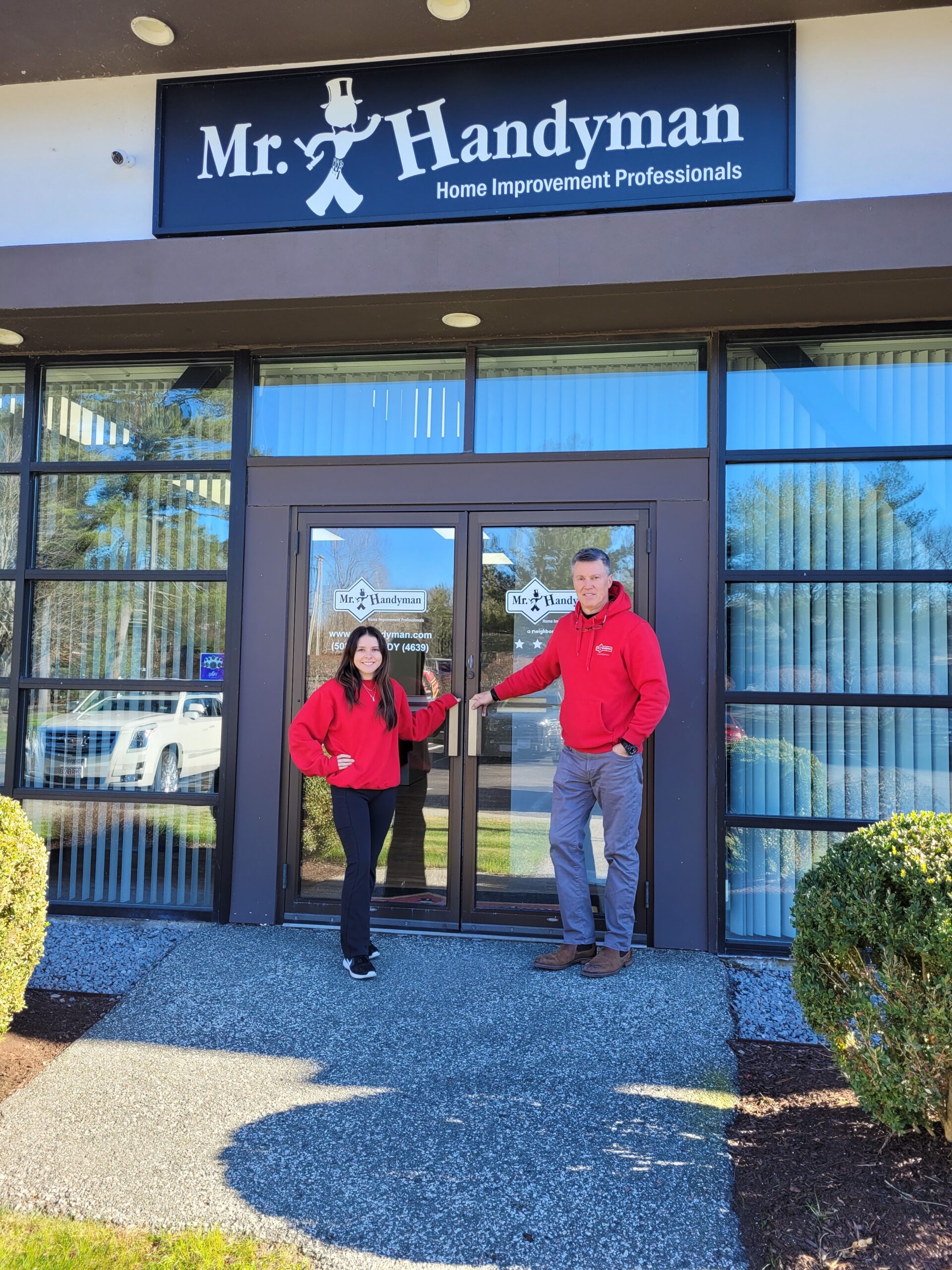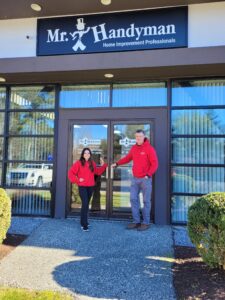 By Kathryn Acciari
Contributing Writer
ASHLAND – Mr. Handyman Central MetroWest is not just about fixing things and maintenance. The team there has made extra efforts to recognize the physical needs of aging homeowners and identify modifications customers may need in order to stay in their homes longer. 
Mr. Handyman Central MetroWest has been a Certified Aging in Place Specialist for several years. They earned this by meeting the criteria set by the National Association of Home Builders.
"Many seniors may need to go to assisted living, which can be very costly. By employing some reasonable changes, there is a good chance we can help them safely stay in their homes comfortably and for much longer," said owner Michael Campbell. "The training not only helps us to recognize issues common with aging, but also for temporary situations. For example, we can help homeowners who have a broken leg or other short-term challenges."
Mobility and balance issues are a primary concern among older adults. The team at Mr. Handyman is trained to identify tripping hazards as well as other areas where they can improve the ease of walking for homeowners.
"We know that the transition between rooms can be an area where older adults frequently trip, so we can easily improve the thresholds used in those cases. We can also install decorative handrails that look much like wainscoting, which adults can use to help steady themselves as they walk throughout the home," said Campbell.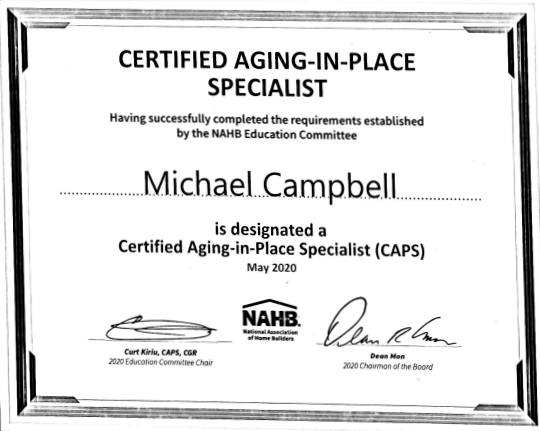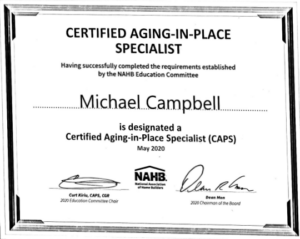 In addition to the Aging in Place certification, Mr. Handyman is licensed and experienced in installing fixtures that are compliant with the Americans with Disabilities Act. One area where Campbell sees a need is helping people who have suffered loss of hearing or vision.
"It's not too hard to install a doorbell with a light for someone whose hearing may be impaired, or simply relocating the speaker," said Campbell. 
Grab bars and improved lighting are areas where Campbell feels his company can make a quick and inexpensive impact. Replacing older, yellow lighting with a brighter white in some cases can make a big difference in a homeowners' visibility throughout the house.
Computer technology also plays a significant role in helping homeowners stay safe. Mr. Handyman can install video doorbells which use the existing doorbell wiring and Wi-Fi, so the homeowner can monitor visitors remotely. And in the case of snowbirds, people can be away and still keep an eye on their home. 
Campbell became more interested in the challenges of aging adults after learning first-hand what his parents needed.
"I saw what my parents went through when they moved to Florida," said Campbell. "The challenges of transitioning from tile to carpet and even simply getting in and out of the shower. I obtained the certification so that all of my staff would be able to recognize how to help our clients whose needs are changing. We can offer solutions that they may have not thought of, such as simply adding an egress or a ramp where needed."
The team at Mr. Handyman consists of highly-skilled, background checked and bonded workers, and they are known for their care of each customer. Mr. Handyman was just awarded the Angi Super Service Award for 2022, the seventh consecutive year.
"Anytime we go into a home to complete a project, we make short-term and long-term recommendations to the homeowner. Before winter, our primary recommendation is preparing for the season and winterizing the home. Cleaning gutters and installing quality leaf guards, which we always carry in stock, is important," said Campbell. "These and other simple maintenance steps help with peace of mind in the winter and saves the homeowners money because they don't have to call us to clean their gutters multiple times during the year."
With winter in full swing, Mr. Handyman advises that homeowners turn off outdoor water spigots, check and add insulation and ventilation in attics to help prevent ice dams, and install caulking around windows and doors to decrease heat loss.
Mr. Handyman offers an extensive list of services, and for projects that are beyond the scope of their work, they can direct you to other qualified companies in the area.
"If there is a service that we don't offer, we'll refer out to a contractor who has the same standards as us. We want our customers to feel cared for and receive the best possible service in the industry," said Campbell.
Contact Mr. Handyman Central MetroWest at (508) 366-3690 or visit their website for more tips and information at https://www.mrhandyman.com/central-metrowest/. 
RELATED CONTENT: 
Top home improvements that pay off when selling (fiftyplusadvocate.com)