Lilac color trend: Why you should use this color of the moment
It's fair to say that lilac fell out of favor for a time but we're…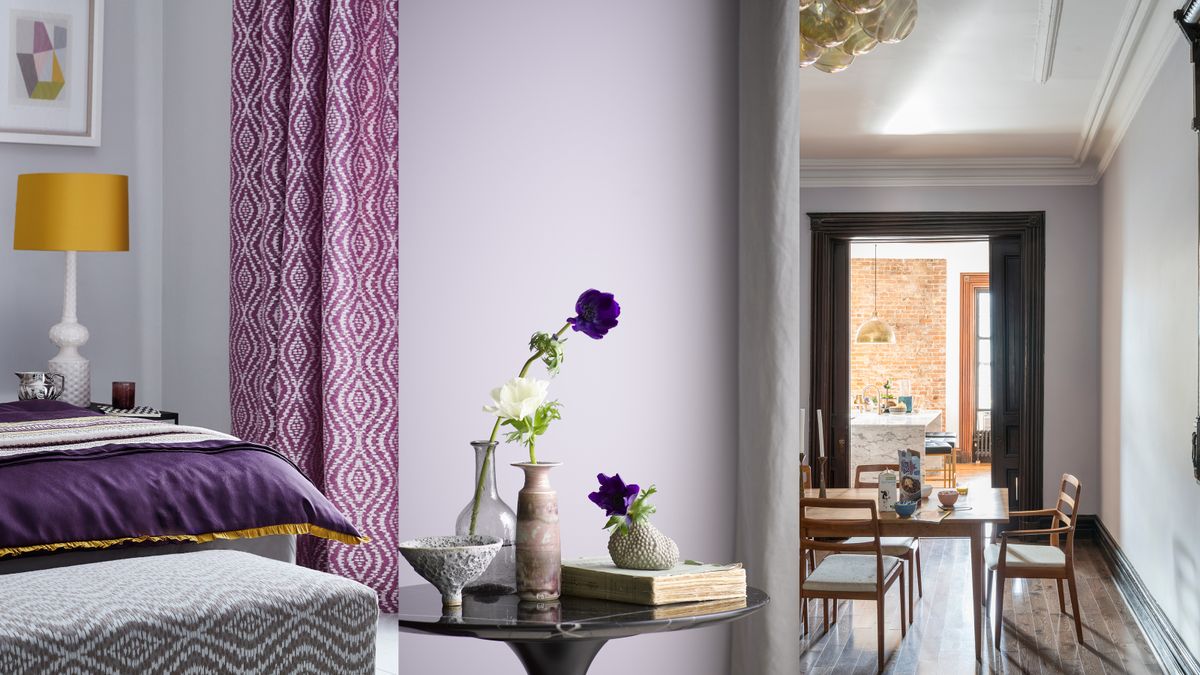 It's fair to say that lilac fell out of favor for a time but we're pleased to see it's making a comeback. This time around it feels much more sophisticated and less saccharine, so we're hoping it's a hue that will stick around for while.
When it comes to decorating ideas, many designers think of this shade as a feminine alternative to grey. Pretty in color and quiet in tone, lilac creates the perfect backdrop without being too stark or too overbearing.  
Understanding color lies at the root of all interior design decisions. If in doubt, consulting the color wheel – and basic color theory – will ensure your decorating scheme flows effectively from room to room.
What are the benefits of decorating with lilac? 
Violet, especially at the lighter end of the scale, can be used as a softer, more romantic version of grey so if you want a look that feels clean and unfussy but with a little character, this is your 'go to' shade when thinking about your room ideas. 
'Lilac is a calming, comforting color, it makes you want to relax and stay in an interior longer.' says Saffron Hare, creative director, James Hare. It is a hue that encourages rest so is ideal for bedrooms as well as bathrooms.  
When asked about this floral shade, David Harris, design director at Andrew Martin says it conjures up images of 'rolling purple fields in Provence with delicate floral scents.' However, if you have reservations that this color may date easily, David recommends 'pairing it with soft grey hues for a cool and contemporary scheme'. 
How to introduce lilac into your scheme
'Think about the aspect of the room before you commit' advises Patrick O'Donnell, brand ambassador, Farrow & Ball. Pretty sound advice when considering any home ideas or interior makeovers. 
Louise Wicksteed, design director at Sims Hilditch is a big fan of using violet hues. She recommends using lilac-toned whites to 'create beautiful feminine spaces with a welcoming atmosphere', suggesting that it's an ideal color to use on 'wardrobes, furniture and bathroom vanities.' 
As James Hare demonstrates, against a backdrop of textured walls in pale violet, use stronger tones of plums and honey gold hues for a striking yet restful bedroom scheme. Regal silk wallcovering in Purple Smoke; curtain, Bagatelle in Foxglove; throw, Mikado in Plum, all James Hare.
Creative ways to decorate with lilac
For a smart, gallery-style interior that will give energy to a space, opt for a delicate shade such as Benjamin Moore's African Violet. This is a versatile hue that is suggestive of summer lilacs and lavender to help a room stay fresh all year round.
'Team it with sleek black furniture' advises Helen Shaw, UK director, Benjamin Moore.
Although lilac is a shade that is often associated with pared-back pretty, that doesn't mean that it's a hue that can't be used in a fresh and fun way. Take inspiration from Base Interior, who have introduced candy stripes to a small downstairs cloakroom to give it an element of surprise. Paint, Aplat by Wilmotte in 7.70 Ondee, Vicalvi; Apollo Basin in Calacatta, Mandarin Stone.
'Crisp and timeless, combining this color with white lends a tailored aesthetic which doesn't date.' says Deborah Base, founder, Base Interior.
Not ready to commit? 
It's surprising just how many shades of lilac that are available. If you're keen to introduce purple tones to your home but want to avoid anything too sickly sweet then opting or a washed-out shade could be the way to go. 
Play with color in naturally light rooms – the dark trims on the woodwork almost sing against the pale heather painted walls of this dining room with walls in Calluna by Farrow & Ball.