How Connected Appliances Fit into a Whole-Home Control Ecosystem
According to a recent survey conducted by Thermador, 42% of Americans desire smart technology as…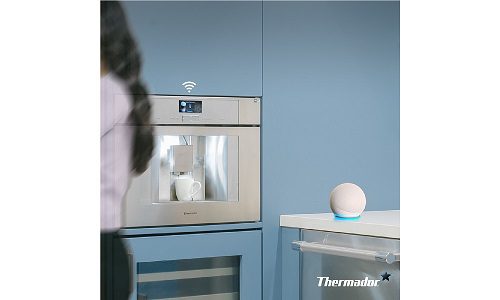 According to a recent survey conducted by Thermador, 42% of Americans desire smart technology as part of their dream home. Consumers are seeking technology, such as connected appliances, for whole home integration possibilities that afford them the ability to streamline the everyday in one easy ecosystem, rather than selecting individual smart products.
While most consider smart devices/voice-activated assistants, integrated security systems, and smart temperature controls as the "must-haves," connected appliances have a multitude of benefits that can also help make your clients' homes more efficient.
Smart appliances from Thermador are integrated with Home Connect, offering the ability to remotely monitor and control home appliances from a number of devices and services, including the Home Connect app, preferred voice assistants, smartwatches, and on select whole-home control systems. Home Connect is a dynamic platform that connects home appliances to the Internet of Things and helps simplify daily life.
Home Connect improves user experience by providing added convenience and customization through remote appliance monitoring and control with the Home Connect app, as well as a full ecosystem of compatible devices and services integrated throughout the whole home.
Here are four ways smart appliances can integrate with a whole-home control ecosystem:
Integrated Partnerships
A true smart home is a fully integrated ecosystem of smart devices that delivers a cohesive experience. With smart appliances from Thermador, users can experience seamless connection throughout the entire home.
The ever-growing Home Connect ecosystem provides control of the full kitchen suite with ease using the Home Connect app or through integrated partnerships. Crestron Home, for example, orchestrates technology in all aspects of the home to deliver an effortless living experience, all activated by a touch of a button.
Whether dimming the lights, starting the fireplace, or setting the temperature on Thermador Wine Column Refrigeration, Creston Home and the Home Connect integration tailors custom experiences for the user.
Related: KB Home Finds Smart Home Appliance Adoption Growing
With partners like Josh.ai, Amazon Alexa and Google Assistant, Thermador smart appliances are primed for hands-free control through simple voice-activation. Fitbit and Apple Watch integrate with the smart appliances to manage tasks remotely with Home Connect wherever the user is.
Additionally, integrations like ckbk, SideChef, and Kitchen Stories offer recipes, while Chefling and Innit provide instructions throughout the cooking process right to the smart appliances, elevating the cooking experience for consumers.
Automate Everyday Tasks and Routines
One of the key benefits of smart appliances enabled with Home Connect is their remote and automated capabilities that help simplify routines and automate everyday tasks. Examples of remote-control functions include:
Remote start the Thermador Built-in Fully Automatic Coffee Machine with Home Connect with the touch of a button. Users can start their favorite beverage from the comfort of their bed. If they want to start every day off with a brew at 6 a.m., their smart appliance with Josh.ai, Crestron Home, or Universal Remote Control integration can manage this routine.
Preheat the Thermador Wall Oven with one tap. Whether from another room, or from the office, users can remote preheat their oven to start the cooking process.
Keep track of dishwasher tabs right in the app with the tab counter, ensuring the user never runs out. They can also remotely start their Thermador Dishwasher from their smart device when the time is right.
Smart Reminders
From security systems and smart locks, to helpful reminders and remote monitoring, consumers are seeking technology that will provide them with peace of mind. Another key feature of smart appliances with Home Connect™ is that users can monitor their home's activity, even when they are not home.
People often wonder if they have left the oven on once they leave the home. With Home Connect, users are equipped with the ability to check on their appliances' activity remotely.
They can also opt in for notifications about their appliances. For example, if a Thermador Refrigerator door has been left open, the Home Connect app sends a notification so that the user can close it. Or, they can utilize the app to check when the cycle will be done on their dishwasher so they know when it's time to unload.
Easy Use & Care
When someone purchases and sets up their smart appliance, the Use & Care Guide will automatically be stored within the Home Connect app for instant access whenever needed.
Whether the user needs information about their appliance's settings, or is looking for tips on how to clean their new product, more information can be found at the touch of a button, right within the Home Connect app.
Beatriz Sandoval is Head of Brand Marketing at Thermador.