Better Business Bureau warns of baby formula scams during nationwide shortage | News
SPOKANE, Wash. – A mother desperate to find formula for her baby ordered three cans…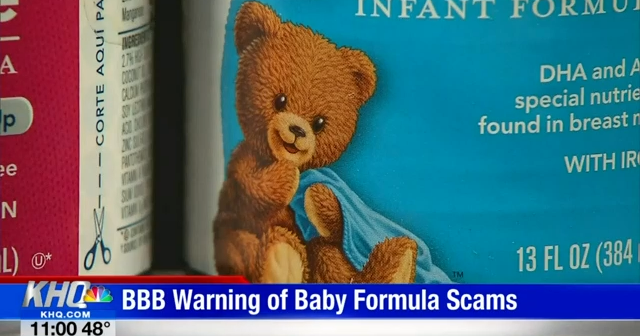 SPOKANE, Wash. – A mother desperate to find formula for her baby ordered three cans of formula from an online retailer–ganbino.com. Instead, she ended up filing a report with the Better Business Bureau, because that formula never came.
"These are the situations we're worried about," Keylen Villagrana said.
Villagrana is a communications director with the Better Business Bureau. She said if parents can't find the formula they need locally, they might head to search for it online or on social media.
"What complicates it further is that some of these parents are looking for specific types of formula, maybe their child has a sensitive stomach," Villagrana said. "It makes it even more limited to where they find the one or two listings of what they need, and their only option is to have it shipped out."
When it comes to Ganbino Handyman Services LLC–the parent company behind ganbino.com–Villagrana said it looks like a legitimate website, but there are some telltale signs that it might not be an honest operation.
"If you look up the address, it leads to just a house," Villagrana said.
That house is located in Tampa, Florida.
The phone number that's listed on the website?
"The report says that it's international, so even if you try contacting it it's not vacant," Villagrana said.
KHQ put this to the test by calling the phone number. After dialing, a message played saying "the call could not be completed as dialed."
The Better Business Bureau said they're still investigating to confirm whether or not Gambino Handyman Services LLC is for sure a scam, but the red flags presented give a chance for some good reminders for consumers.
"When there's any national crisis happening, we notice that scammers jump on literally any situation, and find ways to steal people's money," Villagrana said. "It's very unfortunate."
Villagrana said online purchase scams are the number one type of report the BBB gets.
"Look up the name of the company on Google, on social media and on BBB.org," Villagrana said. "Take as much time as you can to research it, even if it's five or 10 minutes doing your due diligence before hitting that checkout button."
Villagrana also said to keep in mind how  people might be paying for online goods–especially when using money transferring apps like Venmo, PayPal or Zelle.
"Each money transferring app is different," Villagrana said. "Some of them have a bit more protection than others, but most of the time–since it's individual to individual–it's really hard to get that money back."
When shopping online, experts–like the Federal Trade Commission–say one of the best things people can do is use a credit card, so if a purchase ends up being fraudulent there's a better chance at getting a refund.
In response to the ongoing nationwide formula shortage, President Biden invoked the Defense Production Act on Wednesday in hopes of speeding up production of baby formula.
For more information on ways to avoid scams, click here for resources from the Better Business Bureau, or click here for resources from the Federal Trade Commission.