All 39 Gardens And Winners (Gold, Best Show)
There are 39 gardens at this year's Chelsea Flower Show made up of 13 Show…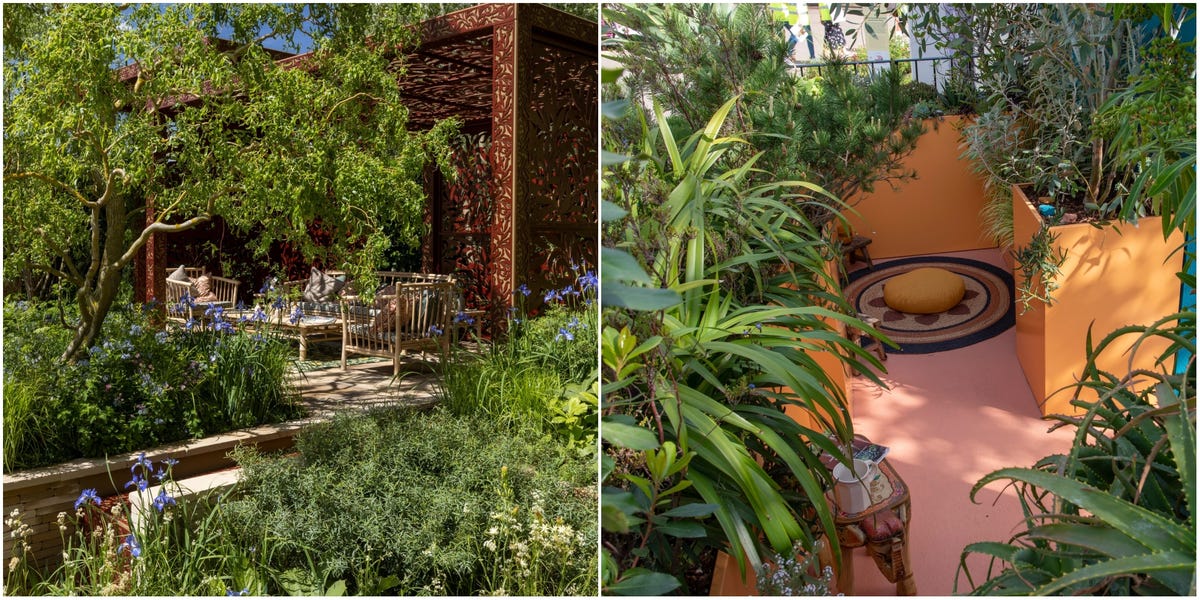 There are 39 gardens at this year's Chelsea Flower Show made up of 13 Show Gardens, 12 Sanctuary Gardens, four Balcony Gardens, five Container Gardens, four All About Plants gardens and one Feature Garden (unjudged) – but which garden design has won Gold, Best in Show and the People's Choice award?
After undergoing a rigorous judging process, RHS judges awarded garden designers with medals (Gold, Silver-Gilt, Silver and Bronze) on the official opening day.
Lulu Urquhart and Adam Hunt's A Rewilding Britain Landscape won Best in Show, marking the second year in a row that first-time designers have taken the top prize, while Kate Gould won Best Sanctuary Garden for her Out of the Shadows garden.
'While all of this year's gardens are sensational, a few really stood out,' said RHS Chair of Judges, James Alexander-Sinclair. 'It was a hard-fought debate between the members of the judging panel to decide which garden to award Best in Show. In the end, all the judges were captivated by the skill, endeavour and charm of A Rewilding Britain Landscape – every step is exquisite.'
There is something for everyone this year, with each garden – however big or small – providing inspiration and take-home ideas while raising awareness about the environment or the positive effects of gardening for mental health. Situated on Main Avenue, the Show Gardens demonstrates the best of horticulture and excellence in garden design and are the largest gardens at Chelsea, while All About Plants is a new garden category, for the first time hosted inside the Great Pavilion, which interprets the positive powers of plants in unique and interesting ways.
We've compiled every single garden from the Chelsea Flower Show 2022 right here, where you can also see the winners for each garden category.
• CHELSEA FLOWER SHOW 2022 WINNERS
Best Show Garden: A Rewilding Britain Landscape designed by Lulu Urquhart and Adam Hunt
Best Construction Award (Show Garden): MEDITE SMARTPLY Building the Future Garden, designed by Sarah Eberle, built by Mark Gregory's Landform Consultants
Best Sanctuary Garden: Out of the Shadows designed by Kate Gould
Best Construction Award (Sanctuary Garden): Out of the Shadows designed by Kate Gould, built by Kate Gould Gardens
Best Balcony & Container Garden: The Still Garden designed by Jane Porter
Best All About Plants Garden: The Wilderness Foundation UK Garden designed by Charlie Hawkes
People's Choice Award winners: TBA.
1
BBC Studios Our Green Planet & RHS Bee Garden designed by Joe Swift
FEATURE GARDEN | Award: N/A not judged
Designed by Joe Swift, this garden aims to help and inspire people to grow bee-friendly plants and think of the power of plants to help precious pollinators. Central to the design is a beautiful silhouette of a bee's wing. This garden is brimming with ideas to help gardeners across the country balance our ecosystem with nectar and pollen rich plants.
2
A Rewilding Britain Landscape by Lulu Urquhart and Adam Hunt
SHOW GARDEN | Award: GOLD | BEST SHOW GARDEN
Designed by Lulu Urquhart and Adam Hunt, this garden shows a rewilding landscape in South West England, after the reintroduction of a native, keystone species – the beaver. With swaying multi-stemmed willows and scented wildflowers, the garden reflects the rich landscape that evolves when nature's eco-engineers, such as beavers, are able to flourish.
3
The Meta Garden: Growing the Future designed by Joe Perkins
SHOW GARDEN | Award: GOLD
Designed to emphasise the inseparable connection between plants and fungi within woodland ecosystems, the Meta garden by Joe Perkins highlights the beauty and versatility of timber, and the critical role of nature-based solutions, such as tree planting and forest management, in tackling climate change. Central to this is a complex pavilion structure with a seating area sunken into the environment.
4
The Mind Garden designed by Andy Sturgeon
SHOW GARDEN | Award: GOLD

Designed by Andy Sturgeon for mental health charity Mind, this garden is set among open woodland with generous swathes of colourful meadow planting at the woodland edge. Inspiring us to connect with each other for our mental health, sculptural walls cascade and swirl through the sloping garden like a handful of petals tossed to the ground.
5
The RNLI Garden designed by Chris Beardshaw
SHOW GARDEN | Award: GOLD
Designed by Chris Beardshaw, the RNLI Garden is a celebration of the history of this multi-faceted charity, which has been saving lives at sea for almost 200 years. A classically inspired, green oak pavilion at the rear features carved lettering and turned columns, while rich planting provides a celebration of texture, form and foliage.
6
Brewin Dolphin Garden designed by Paul Hervey-Brookes
SHOW GARDEN | Award: SILVER
Designed by Paul Hervey-Brookes, this garden has been designed to illustrate how brownfield land can be rehabilitated using existing and repurposed materials to establish a new, sustainable and environmentally-aware landscape. It reflects the challenges of inheriting poor soil conditions that many British homeowners will face, with thousands of new homes set to be built on brownfield sites over the coming years.
7
The New Blue Peter Garden – Discover Soil designed by Juliet Sargeant
SHOW GARDEN | Award: SILVER-GILT
Designed by Juliet Sargeant, this multi-layered garden, with vibrant blue and orange planting to reflect the colours of Blue Peter, encourages us to investigate the soil beneath our feet. You can listen to the sounds of a compost heap in a subterranean observation chamber and watch what happens below ground.
8
St Mungo's Putting Down Roots Garden designed by Cityscapes (Darryl Moore & Adolfo Harrison)
SHOW GARDEN | Award: SILVER
This urban pocket park has been designed as an inclusive place, bringing people and plants together. It embodies the ethos of St Mungo's Putting Down Roots programme, which has helped people recovering from homelessness to gain confidence and grow their skills, and to rebuild their lives through gardening. Central to this garden design is a pavilion structure and green textural foliage punctuated with floral accents of colour.
9
The RAF Benevolent Fund Garden designed by John Everiss
SHOW GARDEN | Award: SILVER
Designed by John Everiss, this garden celebrates the help and protection the RAF Benevolent Fund has continued to provide from the First World War to the present day. Central to the design is a large sculpture of a young pilot, looking nervously up at the sky, watching dogfights unfold overhead, waiting for the call to return to his spitfire and to the battle – the Battle of Britain. A stone spiral wall surrounds and protects the sculpture, while a curved larch seat is enclosed within.
10
Hands Off Mangrove by Grow2Know designed by Tayshan Hayden-Smith and Danny Clarke
SHOW GARDEN | Award: SILVER-GILT
Inspired by the events of Notting Hill's Mangrove Nine (who were tried and acquitted of inciting a riot in in the 1970s) and the global deforestation of mangroves, a keystone species that harbour entire estuarine communities, Hands Off Mangrove by Grow2Know – a non-profit CIC born in the wake of the Grenfell Tower fire – aims to drive awareness of the severe impacts that racial and environmental injustices are having on our planet. Honouring each Mangrove Nine member, nine corten steel roots combine to form a protective sanctuary where communities can reconnect with each other and nature.
11
Alder Hey Urban Foraging Station designed by Howard Miller and Hugh Miller
SHOW GARDEN | Award: SILVER-GILT
This woven landscape weaves together young and old, green and urban, play and learning, infused with the magic of discovery inherent to foraging. Precast concrete 'strands' make up a picnic blanket laid over an undulating landscape with edible herbs growing through.
12
The Perennial Garden 'With Love' designed by Richard Miers
SHOW GARDEN | Award: SILVER
This is a classical contemporary garden rooted in the belief that gardens are a gift of love, giving pleasure to those who create and nurture them as much as to those who visit and enjoy them. It features eight flat-topped hawthorn trees to form a structured canopy and a predominantly green palette softened with gentle tones of soft white and plum.
13
Morris & Co. designed by Ruth Willmott
SHOW GARDEN | Award: GOLD
This garden reimagines two of Morris' iconic patterns. Trellis (1862) inspires the garden layout and pathways, and Willow Boughs (1887) is reflected in the design of the pavilion and water channels. The planting reflects Morris' love of colour – earthy reds, apricots and blues predominate – while providing food and habitat for birds.
14
MEDITE SMARTPLY 'Building the Future' designed by Sarah Eberle
SHOW GARDEN | Award: GOLD | BEST CONSTRUCTION
Sarah Eberle's atmospheric edge-of-forest garden has a feature building at its heart, constructed using MEDITE SMARTPLY, sustainable and innovative wood-based panel products to illustrate the future of sustainable landscapes and buildings. Topped with a green sloping roof, a waterfall cascades over the building to a pool below.
15
Out of the Shadows designed by Kate Gould
SANCTUARY GARDEN | Award: GOLD | BEST SANCTUARY GARDEN and BEST CONSTRUCTION
This contemporary spa garden designed by Kate Gould utilises hardy tropical planting to create a private, calm and relaxing space. Modelled as a post-pandemic garden, this space is designed to revitalise both the body and mind and act as a safe haven for people to exercise and socialise in small groups.
16
A Garden Sanctuary by Hamptons, designed by Tony Woods
SANCTUARY GARDEN | Award: GOLD

Designed by Tony Woods, this garden focuses on garden living, taking us out of our homes and letting us decompress, play and reconnect. Central to the design is a small, sculptural carbon-neutral garden cabin which offers a place of seclusion and meditation, with the surrounding power of nature and plants.
17
A Swiss Sanctuary by Lilly Gomm
SANCTUARY GARDEN | Award: BRONZE
Inspired by travels to Switzerland, this garden interprets the Swiss flora and landscape within the boundaries of an urban garden. Large stones act as a garden-sized representation of mountains in the landscape, while alpine and Mediterranean planting to illustrates the country's distinctive and rich natural landscapes.
18
Circle of Life by Yoshihiro Tamura
SANCTUARY GARDEN | Award: TBC
This small garden seeks to represent the cycle of life from beginning to end through different means. It's designed as a sanctuary and a place of escape from the digital world. Water is harnessed by the Japanese wooden water wheel – which is the oldest method of harnessing energy – and its turning is a symbol of the passing of time.
19
Connected, by EXANTE designed by Taina Suonio
SANCTUARY GARDEN | Award: SILVER-GILT
In this cool, calm woodland sanctuary, there's space among the tranquillity for people to connect inside the main feature. The natural, larger-than-life oak tree stump has a skylight roof encircled by a vegetated edge.
20
Kingston Maurward The Space Within Garden by Michelle Brown
SANCTUARY GARDEN | Award: SILVER-GILT

Inspired by the sub-tropical gardens of the Mediterranean, a contemporary arch provides the entrance to a secret jungle which leads to a daybed platform where the visitor can rest, whilst being totally immersed in plants.
21
The Body Shop Garden designed by Jennifer Hirsch
SANCTUARY GARDEN | Award: SILVER-GILT
The conceptual garden-as-sculpture tells a story of environmental and societal regeneration; a journey from a state of burnout to wellbeing. It's defined by a series of Corten steel arches which defines the passing of time.
22
The Boodles Travel Garden by designed Tom Hoblyn
SANCTUARY GARDEN | Award: GOLD
Some 60 years ago in 1962, Anthony Wainwright, grandfather to the current chairman of Boodles, travelled around the world in just 16 days. This garden celebrates this endeavour with planting drawn from all corners of the world. This global garden offers a calm sanctuary to rest and reflect on the journey.
23
The Place2Be Securing Tomorrow Garden designed by Jamie Butterworth
SANCTUARY GARDEN | Award: GOLD
This beautiful garden – with trees, shrubs and herbaceous planting – offers a safe space where children and adults can take time to relax and talk. In partnership with Place2Be, a children's mental health charity, and developed in close consultation with pupils from Viking Primary School in West London, the garden acts as haven for children, especially important for those who have little or no outdoor space at home.
24
The Plantman's Ice Garden designed by John Warland
SANCTUARY GARDEN | Award: SILVER-GILT
Designed by John Warland, this garden contains a 15 ton block of ice at its centre, drawing attention to the alarming rate at which the Polar Ice is melting – over twice the rate of the rest of the Earth. Contained within the core of this ice block is a botanical treasure chest – Silene tatarica plants – celebrating the miracle of botany, whilst also drawing attention to the potential that nature can offer to the problems of world hunger.
25
The SSAFA Garden supported by CCLA and designed by Amanda Waring
SANCTUARY GARDEN | Award: SILVER
This garden offers a quiet, secluded area within a larger garden, providing a place for calm and respite for those staying at Norton House; a safe and supportive accommodation to families whose loved ones are receiving treatment for injuries at the Defence Medical Rehabilitation Centre near Loughborough. The enclosure of the timber walls and hedging creates an area of security, whilst soft perennial planting echoes the colours of the armed forces.
26
The Stitcher's Garden designed by Frederic Whyte
SANCTUARY GARDEN | Award: SILVER
This garden celebrates Fine Cell Work, a charity teaching prisoners needlework. Visitors will see into the garden through a 'cell' – this simple structure is made of steel, with the contemporary woven willow panels replicating the dimensions of their prison space.
27
The Cirrus Garden designed by Jason Williams
BALCONY GARDEN | Award: SILVER-GILT
This sustainable balcony garden is focused on increasing the biodiversity within urban areas and providing a tranquil setting for mental health. It features wildflowers, perennials, herbs, a seating area, a vegetable garden and a fish pond, all of which has been inspired by designer Jason's experience of living with an 18th-floor balcony garden, known as The Cloud Garden.
28
JAY DAY designed by Flock Party (Alison Orellana Malouf and Su-Yeon Choi)
BALCONY GARDEN | Award: BRONZE
Dedicated to the Eurasian jay (Garrulus glandarius), this balcony is a reimagined urban jay habitat to encourage visitors to consider integrating live plants into their bird-feeding regime. The Eurasian jay uses hypnum moss for nut caching, so a carpet of green moss is overlaid with a metal grate to encourage it into the space.
29
The Blue Garden designed by Tom Wilkes-Rios
BALCONY GARDEN | Award: SILVER
The Blue Garden celebrates what is possible in a small space and the joys of being alone in it. The planting wraps entirely around the balcony, creating a fully immersive experience, whilst vivid block colours and vibrant planting aims to uplift.
30
The Potting Balcony Garden designed by William Murray
BALCONY GARDEN | Award: SILVER-GILT
This balcony garden rethinks how we could use limited outdoor spaces for hands-on gardening. There's a practical space to sow seeds, pot up plants and propagate cuttings, all whilst utilising smart garden technology to nurture micro-greens and seedlings. This small space also offers a place to relax amongst the greenery and enjoy the view.
31
The Still Garden designed by Jane Porter
CONTAINER GARDEN | Award: GOLD | BEST BALCONY AND CONTAINER GARDEN
Inspired by Scotland and the plants that thrive across the Highlands and Islands, this garden celebrates reuse, repurposing and heritage crafts. Reclaimed Scottish whisky casks are reconstructed to make new sculptural planters, whilst slate rescued from a disused quarry in Perthshire is constructed to resemble a glen between two mountains.
32
A Mediterranean Reflection designed by Tanya K Wilson and Johanna Norlin
CONTAINER GARDEN | Award: SILVER
Inspired by the Mallorcan landscape, the curved design evokes the tranquil waves of the sea, whilst the hand-rendered stone-effect wall is an interpretation of the weathering effect of sun and sea. The design is complete with with textural Mediterranean drought-tolerant plants of succulents, perennials and ornamental grass.
33
Mandala, Meditation & Mindfulness Garden designed by Nikki Hollier
CONTAINER GARDEN | Award: SILVER

Inspired by the impact of the pandemic, this container garden is a place in which to escape. It offers a safe haven to spend time sitting and meditating, listening to the tranquil water, bees humming and birds singing.
34
The Enchanted Rain Garden designed by Bea Tann
CONTAINER GARDEN | Award: SILVER-GILT
Inspired by a rainy garden in Manchester, this container garden features robust, deep green planting with waxy textures that glisten when wet. A rain collection barrel allows the storage and re-use of valuable rainwater, whilst the ferns can hold raindrops in the soft spaces between their leaves.
35
Wild Kitchen Garden designed by Ann Treneman
CONTAINER GARDEN | Award: SILVER-GILT
This container garden, inspired in part by the recipes and writing of the late Roger Phillips, combines wild edible plants and trees in a small urban setting. The planting is informal, colourful and natural, and a sink and prep area against the back wall makes harvesting easy.
36
The Wilderness Foundation UK Garden designed by Charlie Hawkes
ALL ABOUT PLANTS | Award: GOLD | BEST ALL ABOUT PLANTS GARDEN
Inspired by plant communities in native Japanese forests, this garden's sense of green immersion is heightened by lifting the planting and intersecting a path through it. The charred timber walkway enables visitors to engage with the predominately green understorey.
37
A Textile Garden for Fashion Revolution designed by Lottie Delamain
ALL ABOUT PLANTS | Award: SILVER-GILT
This garden attempts to re-establish the connection between plants and fashion. It's intended to imitate a textile, with planting in distinctive blocks of colour to create the impression of a woven fabric. Shallow reflective pools represent dye baths, with fabric or fibres soaking in natural dyes, and paved seams leading through the planting.
38
The Core Arts Front Garden Revolution designed by Andy Smith-Williams
ALL ABOUT PLANTS | Award: GOLD

In this garden, two urban households have removed the defining boundary between their front gardens to make one open positive space for gardening, socialising, wellbeing and environmental gain. The planting is an original mix of native hedging, flowering fruit trees, perennials, evergreen grasses and wildflowers.
39
The Mothers for Mothers Garden: 'This too shall pass' designed by Pollyanna Wilkinson
ALL ABOUT PLANTS| Award: SILVER
'This too shall pass' is a mantra passed between mothers navigating the challenges of raising young children and the associated mental health challenges that can come with it. This garden for mothers represents a place of transition: from despair to hope. Bronze walls and archways represent how long days at home with a baby can feel like either a sanctuary or a cage. The planting transitions from a muted palette to a joyful, feminine celebration of colour.
This content is created and maintained by a third party, and imported onto this page to help users provide their email addresses. You may be able to find more information about this and similar content at piano.io