70 Best Interior Decorating Hacks To Revamp Your Space
Followtheflow/Shutterstock Picture this: Your house is fully decorated and furnished. The space is pretty functional,…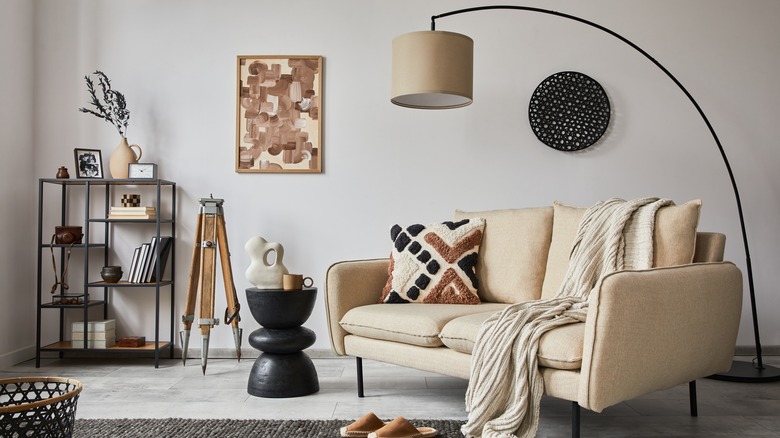 Followtheflow/Shutterstock
Picture this: Your house is fully decorated and furnished. The space is pretty functional, the décor is in the color palette you most enjoy, and you feel overall at home. Still, something feels like it's missing. Maybe it's starting to look a little dull and bland, and you're looking for ways to add interest. Perhaps the decorations you once loved have lost some of their charms. Maybe you're searching for ways to make your practical pieces more aesthetically pleasing.
If this is the case, you may want to revamp your living space. However, knowing what changes to make and how to implement them can be difficult. This is why Worthing Court emphasizes the importance of setting design goals and trying to achieve them in a specific time frame. This can help you stay organized and avoid feeling overwhelmed. If you're looking for lots of decorating inspiration, here are incredible ways you can revamp any space in your home.
1. Replace cabinet knobs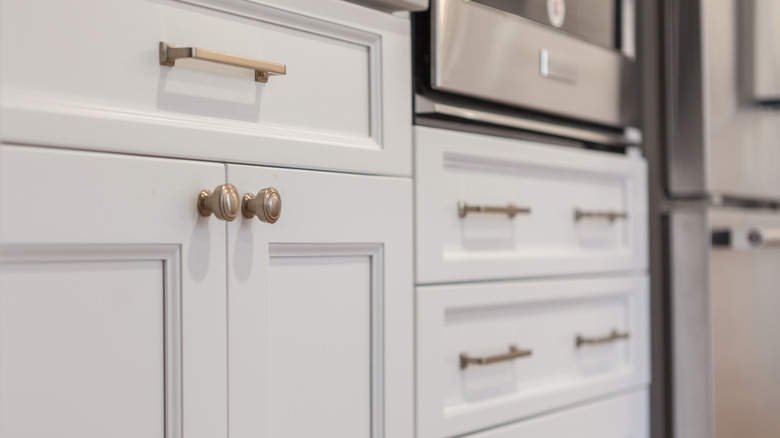 Berkay Demirkan/Shutterstock
An easy way to revamp your kitchen or bathroom is by replacing the knobs and handles. This change won't take long and will make a huge difference in your space. 
2. Add a feature wallpaper wall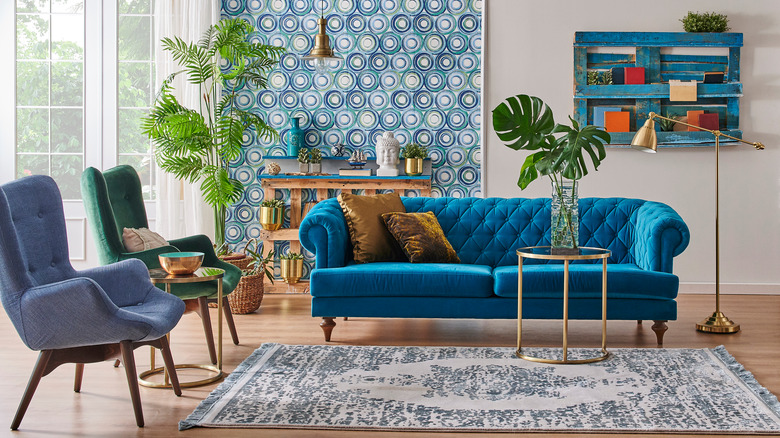 united photo studio/Shutterstock
To add interest to any space, you could add a wallpaper feature wall. This will add lots of fun texture and color. 
3. Layer lighting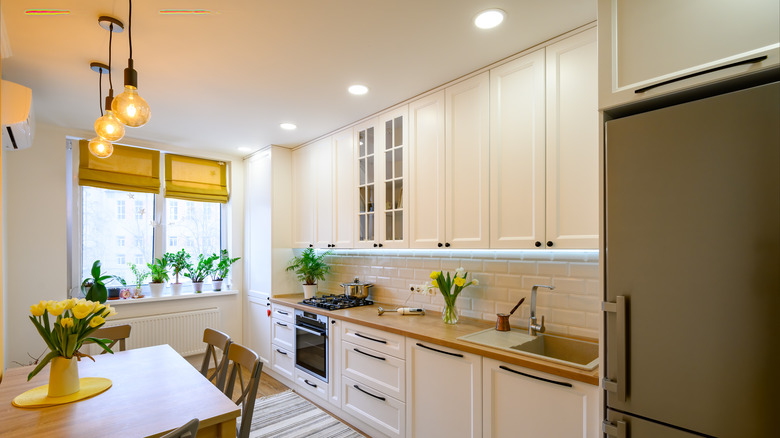 Serghei Starus/Shutterstock
Installing multiple types of lighting in a space will give it a cozier feel. This kitchen has cool ceiling lights and warmer pendants. 
4. Include a round mirror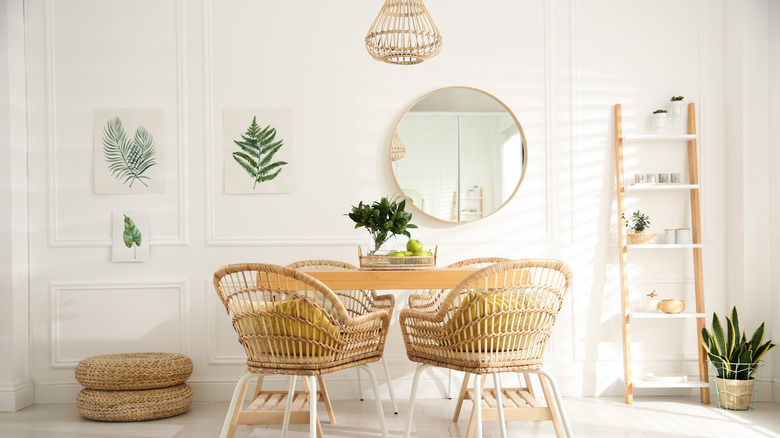 New Africa/Shutterstock
A round mirror could be used to decorate any room in your home, and it will add a spherical aesthetic, making your space appear softer and brighter. 
5. Install colorful tiles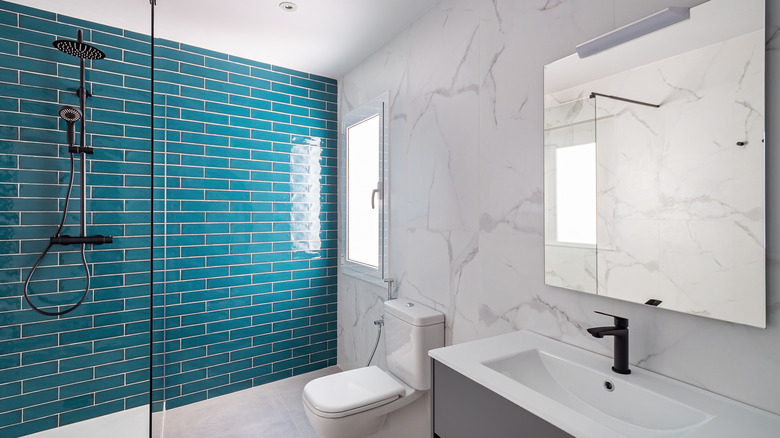 Pavel Adashkevich/Shutterstock
Colorful tiles in a neutral bathroom or bedroom will spice up your space and give it a focal point. 
6. Think about wood paneling
Followtheflow/Shutterstock
Wood paneling can make a wall look extra interesting and be painted any shade you desire. To give your room a subtle update, you could paint the whole wall one color. Or, you could use the paneling to create a two-toned wall. 
7. Create a plant feature wall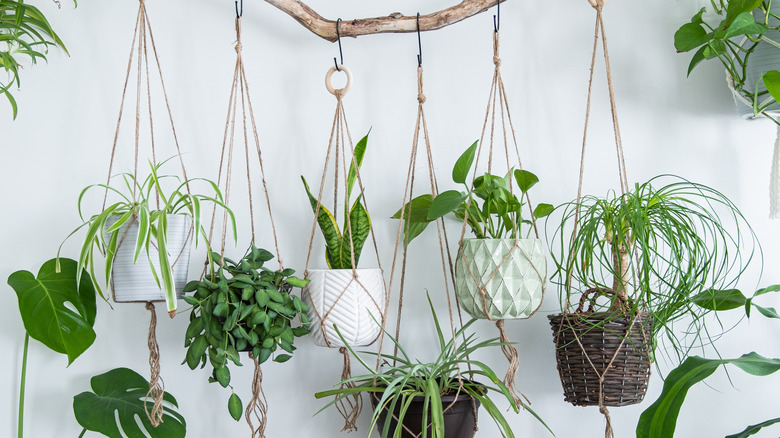 TippyTortue/Shutterstock
If you have a blank wall and aren't sure what to do with it, consider hanging lots of plants on a decorative stick. 
8. Add fresh flowers
stock_studio/Shutterstock
Fresh flowers will liven up any space and give it a pleasing scent. Flowers are also a great way to add a pop of color to a room. 
9. Use crates for storage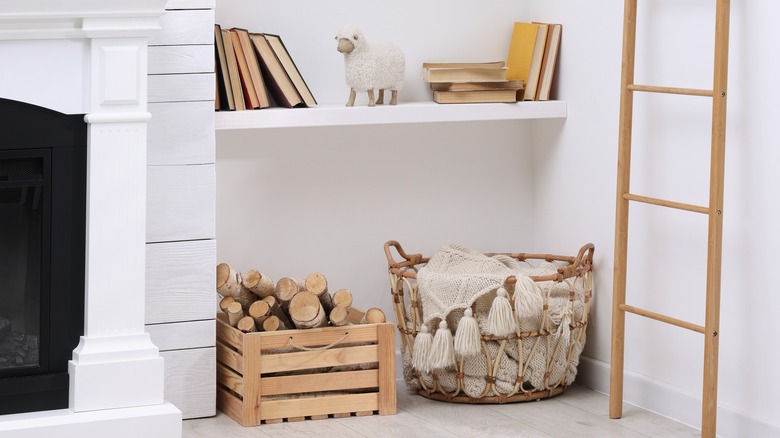 New Africa/Shutterstock
Wooden storage crates can be used to store just about anything, and they'll add a neutral and natural element to your room. 
10. Raise your curtains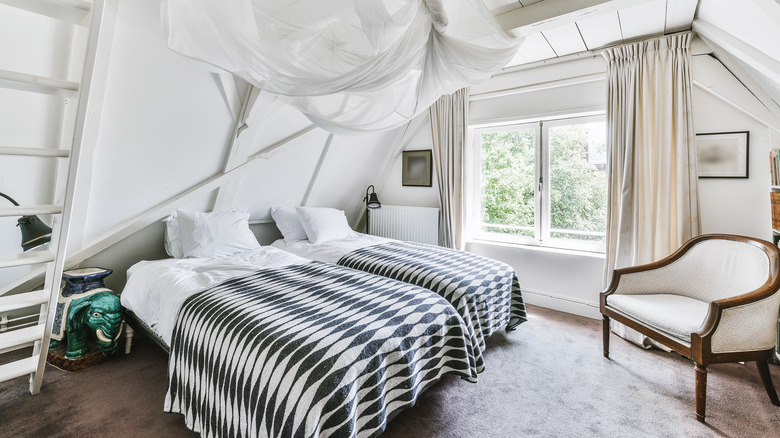 Procreators/Shutterstock
To make your windows appear larger, hang your curtains above the top of the frame, which will elongate its appearance.
11. Replace wall art with textured pieces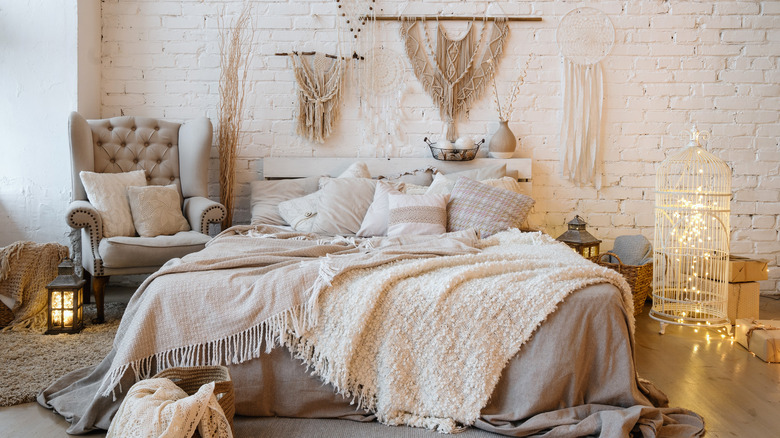 brizmaker/Shutterstock
You could replace flat canvas paintings with textured pieces, like woven macramé wall art. 
12. Fill a fireplace with candles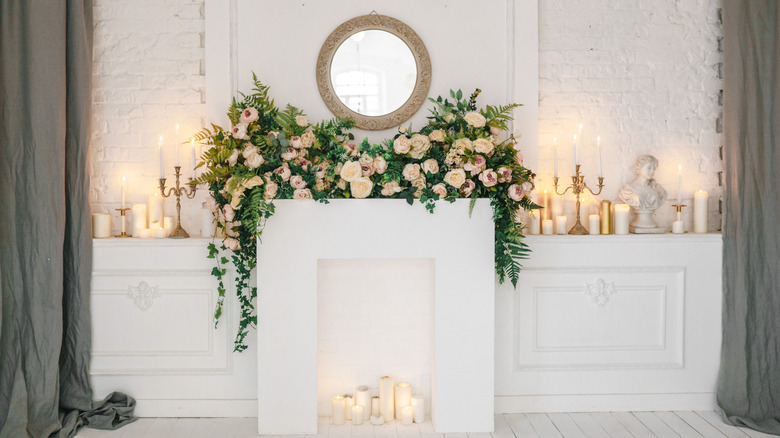 Alex.Kyd/Shutterstock
If you have a fireplace mantle in your home, you could fill it with anything, like plants, baskets, or wooden logs. You could also choose to fill it with candles to add extra light. 
13. Paint staircase risers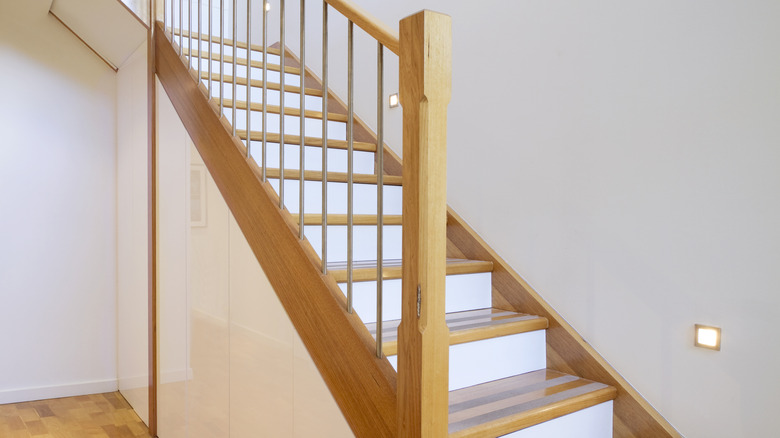 Jodie Johnson/Shutterstock
Painting your risers a different color than the stairs will give your staircase an updated and luxurious appearance. 
14. Buy a skinny bookcase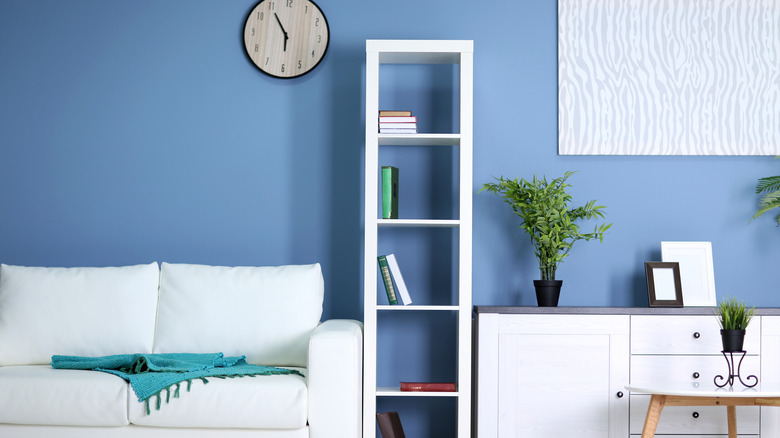 Africa Studio/Shutterstock
If you live in a small space, consider adding a tall, narrow bookcase to a room. This bookcase doesn't take up much space but adds lots of storage and brings the eye upwards. 
15. Get bold on the ceiling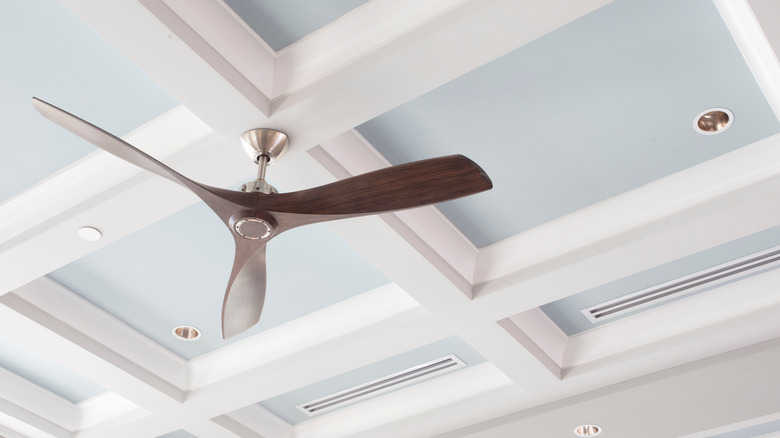 PabloOrtega09/Shutterstock
To make your ceiling more interesting, you could add coffered detailing or paint it a unique color, like light blue. 
16. Add a place to hang keys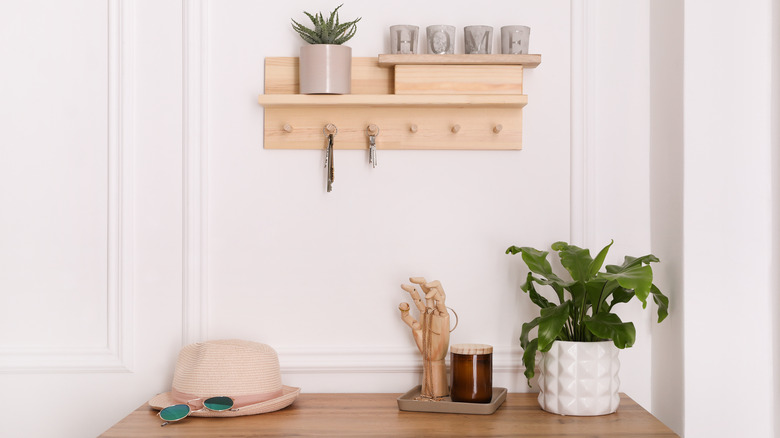 New Africa/Shutterstock
Add a place to hang your keys to make your entryway look aesthetically pleasing and functional. If your piece has a shelf, it could also store mail. 
17. Use unique planters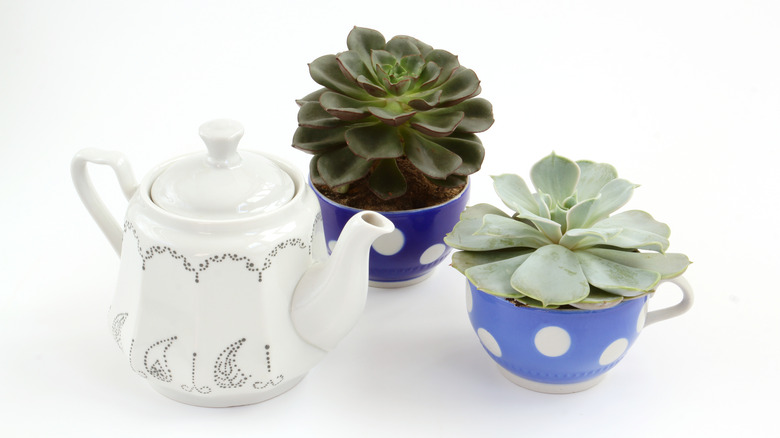 Deniza 40x/Shutterstock
To add extra interest to your plants, you could place them in unique planters. For instance, teapots make great homes for small succulents. 
18. Place baskets in the bathroom
Pixel-Shot/Shutterstock
Baskets in the bathroom will add extra warmth and functionality to your space. They could be used as hampers or to hold towels or toiletries. 
19. Add a sofa table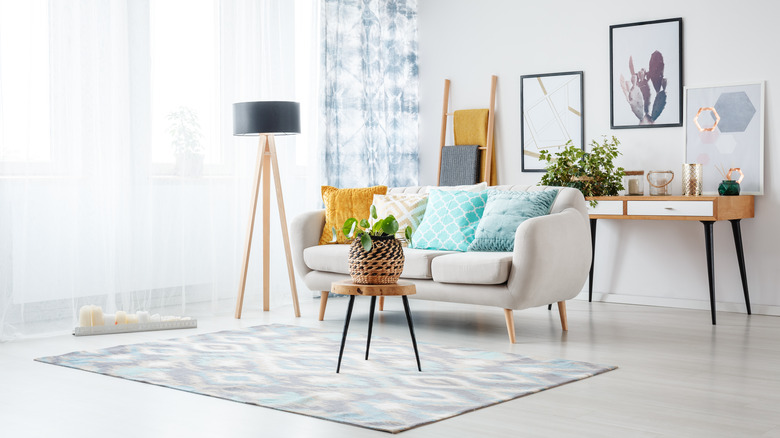 Photographee.eu/Shutterstock
A sofa table will add extra storage space while also providing a place to put down your glass when relaxing in the living room. 
20. Include an arch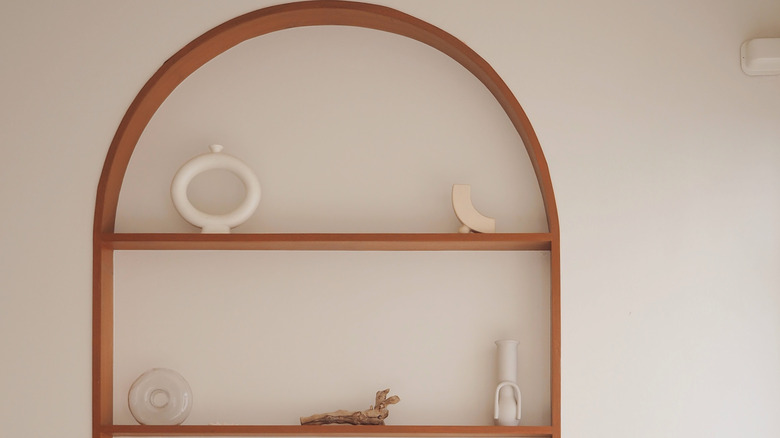 PTCH/Shutterstock
Arches will break up sharp lines in your space and create a more cozy atmosphere. You could include an arched hanging shelf or paint an arch over a shelving unit or desk. 
21. Upholster a cushioned bench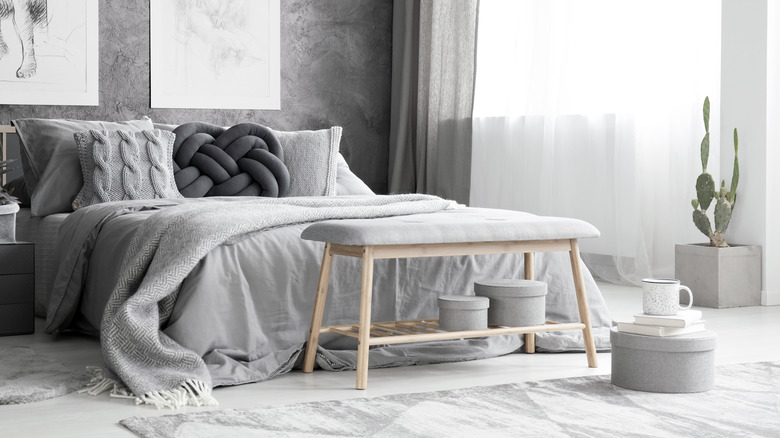 Photographee.eu/Shutterstock
If you've got an old cushioned bench, you could upholster it with a piece of fabric to give it a new life. 
22. Install accent lighting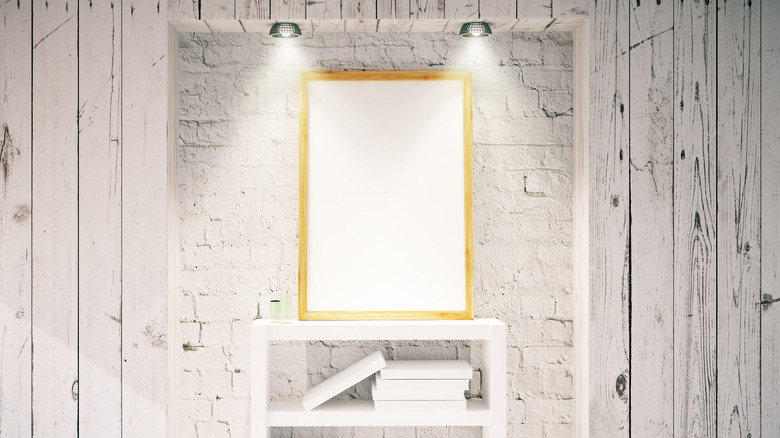 Peshkova/Shutterstock
To highlight an art piece in your home, you could install accent lighting or a light fixture placed above a piece. 
23. Hang cutting boards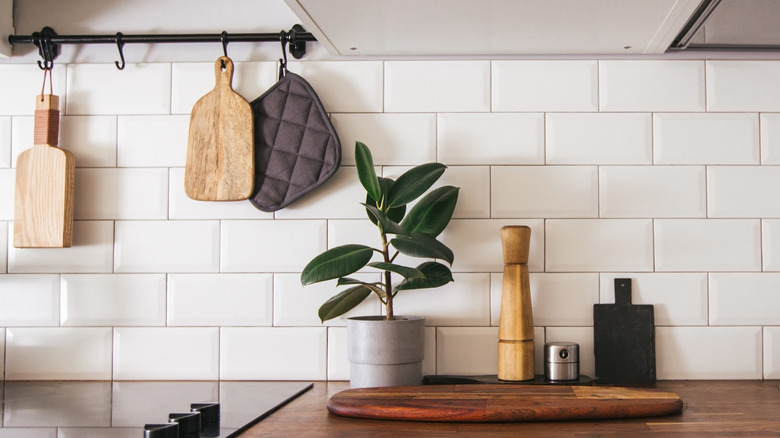 Katrina Era/Shutterstock
Cutting boards are very useful in the kitchen but can also be great art pieces. Hang them above your stove or blank wall to add a small natural element to your space. 
24. Place baskets at the foot of the bed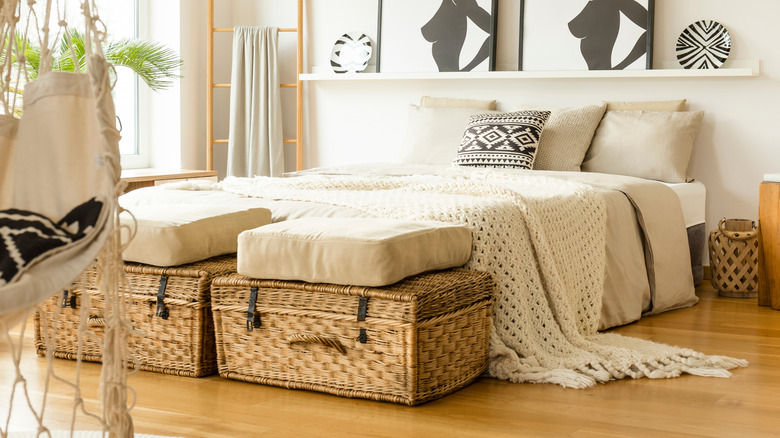 Photographee.eu/Shutterstock
Woven baskets at the foot of the bed will add storage space while providing more texture to your bedroom. 
25. Incorporate texture with placemats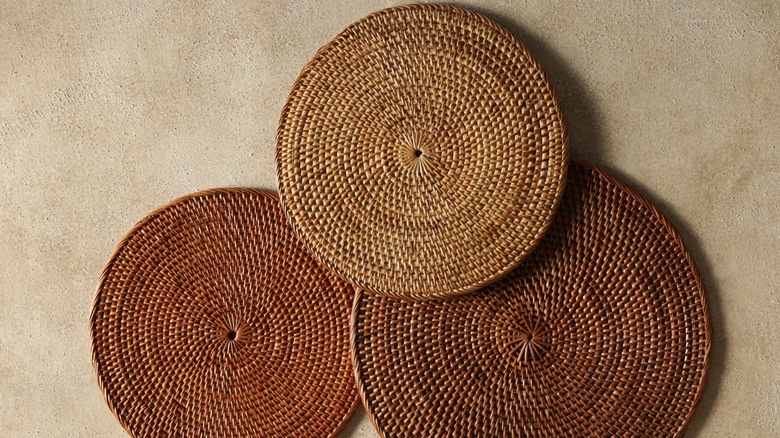 Niny2405/Shutterstock
Another way to incorporate texture is with placemats; these are great additions to any kitchen island or dining room table. 
26. Anchor your soap with a tray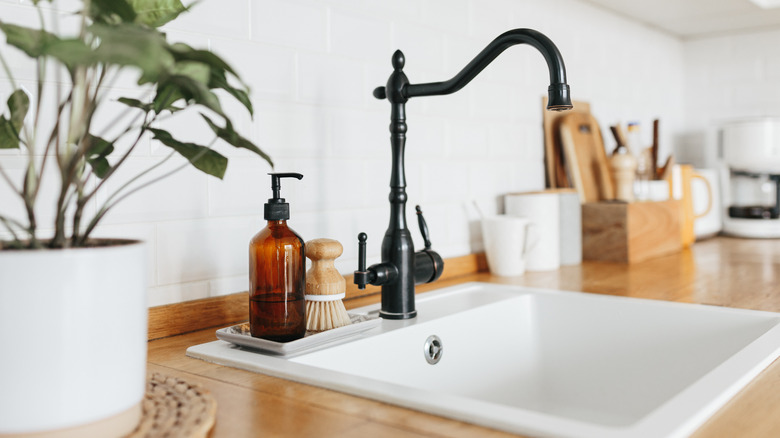 Switlana Sonyashna/Shutterstock
Add a small tray beside your kitchen or bathroom sink to create a designated space for your soap and sponges. 
27. Hang eucalyptus in the shower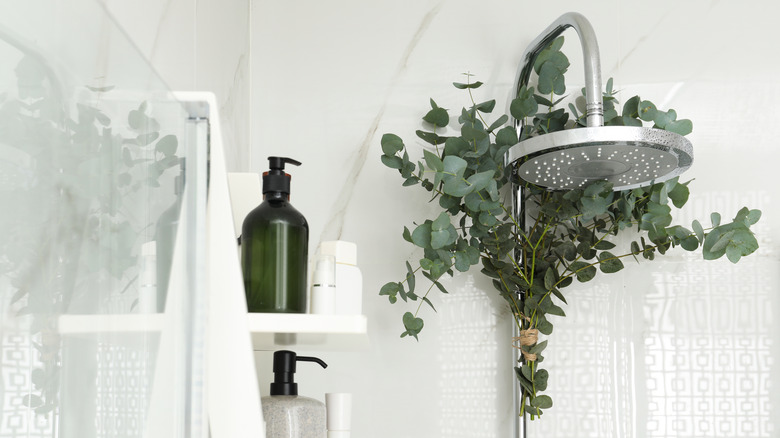 New Africa/Shutterstock
Eucalyptus can bring beautiful color to your bathroom. It will also allow you to take deliciously scented steamy showers, making you feel extra fresh. 
28. Stack your books in piles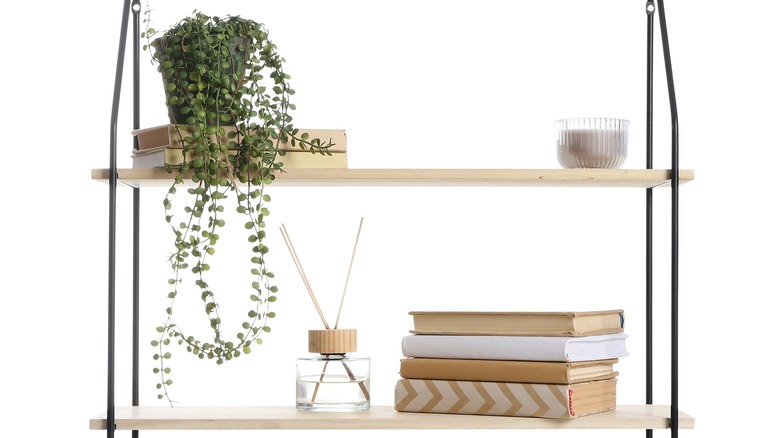 Pixel-Shot/Shutterstock
Instead of lining your books vertically on a shelf, you could stack them horizontally. This will allow you to style your shelves with other design pieces like plants and candles. 
29. Layer a colorful blanket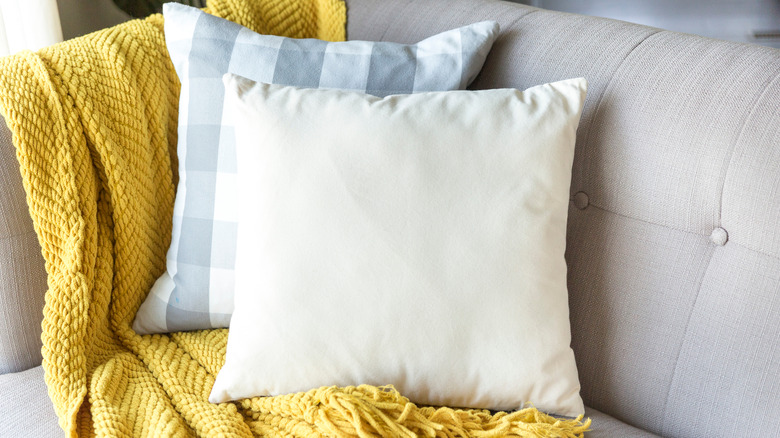 Eastmanka/Shutterstock
While monochromatic spaces are beautiful, you may find yourself craving a pop of color. If this is the case, layer a colorful throw on your couch or at the foot of your bed. 
30. Hang your hats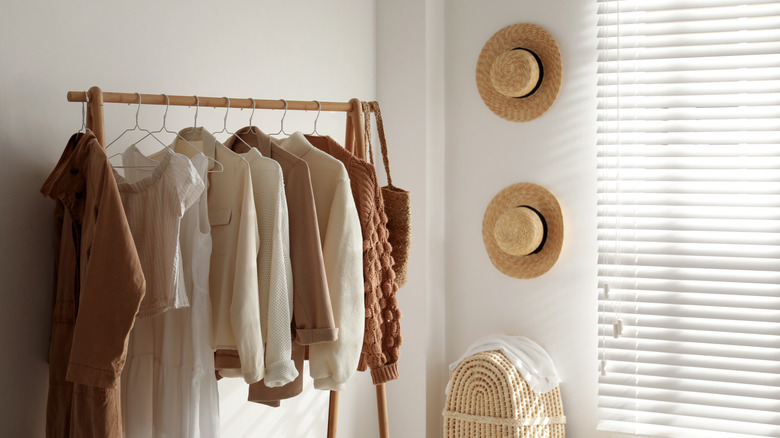 New Africa/Shutterstock
Hanging your hats in your bedroom or closet space will create functional storage that also looks gorgeous. 
31. Display your mugs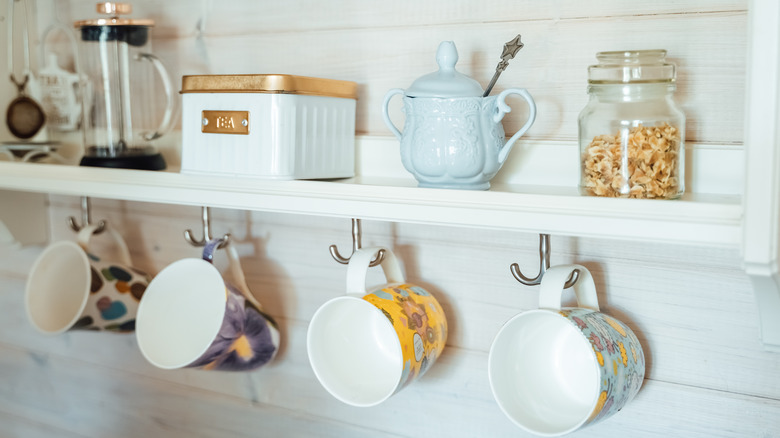 Ira Lichi/Shutterstock
To add more color to your kitchen, consider displaying your favorite mugs on hooks. This would look great in a coffee nook. 
32. Store blankets on a ladder shelf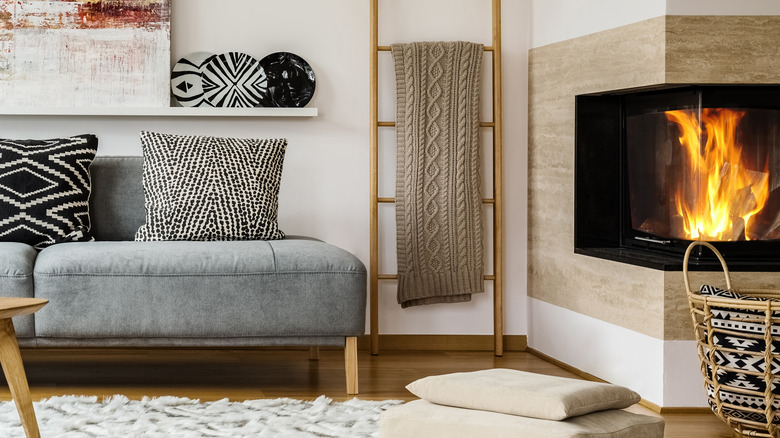 Photographee.eu/Shutterstock
If you're looking for beautiful ways to store blankets, add a storage ladder to your space. 
33. Invest in nightstands with storage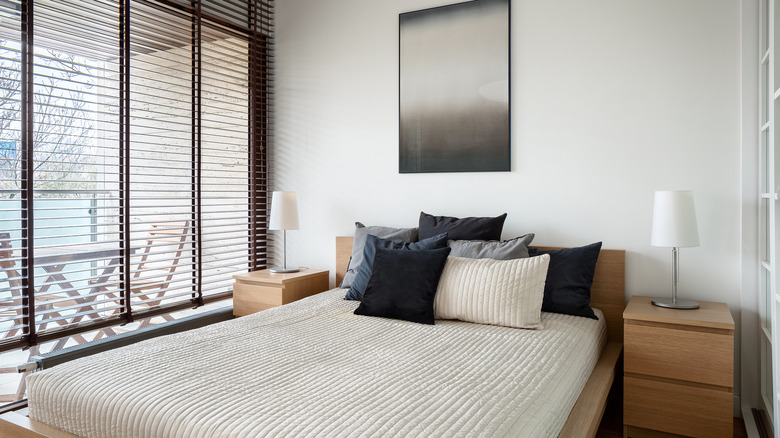 Dariusz Jarzabek/Shutterstock
A cluttered bedroom may be the result of insufficient storage space. To add more storage, invest in nightstands with drawers or cubbies. 
34. Label your pantry containers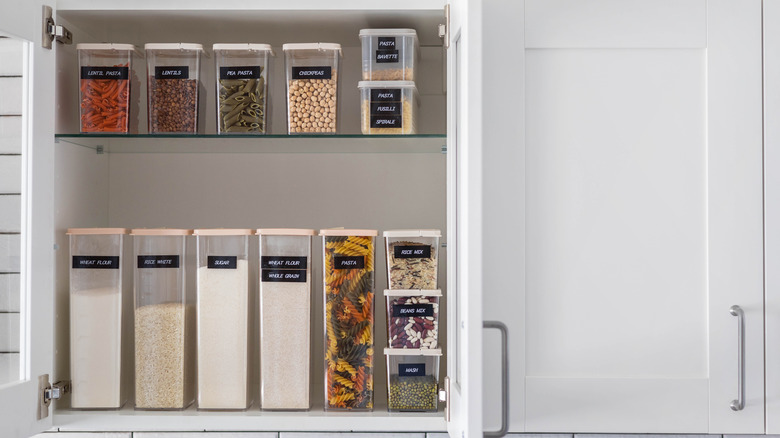 Kostikova Natalia/Shutterstock
To make your pantry more functional, place your food in clear containers and mark them with aesthetically pleasing labels. 
35. Add wooden beams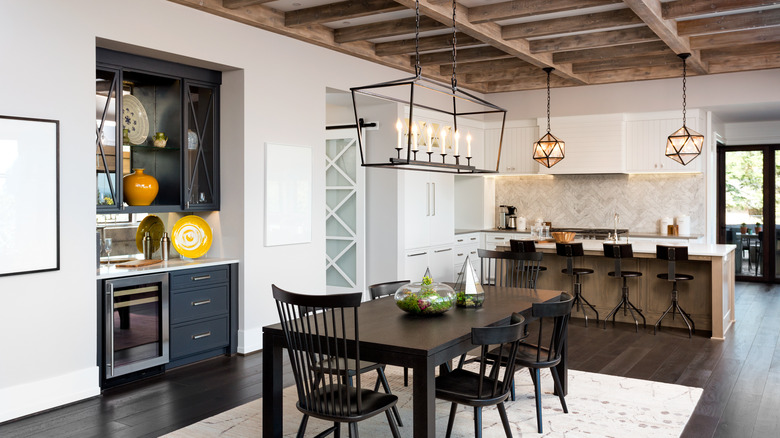 Breadmaker/Shutterstock
Wooden beams can be added to any space to make it feel warm and inviting. They will also draw the eye to the ceiling and make the room appear larger. 
36. Include furniture with rounded edges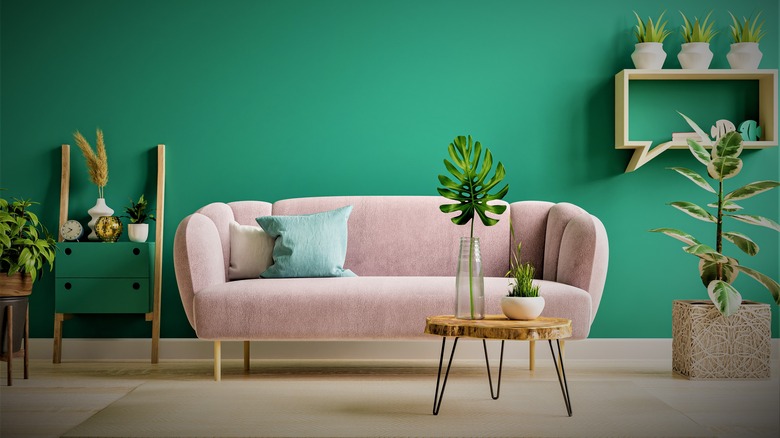 fazilran1234/Shutterstock
While sharp edges are typical in modern homes, mixing clean lines with rounded edges can give a space a softer feeling. 
37. Mix different patterns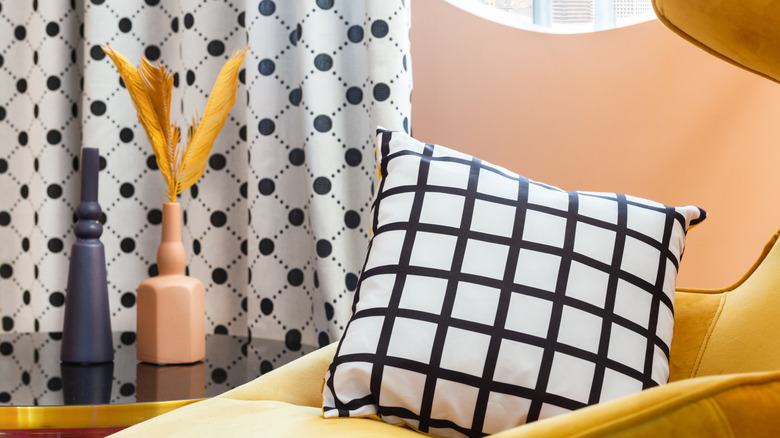 thelavrova/Shutterstock
Mixing patterns can create a fun dynamic in any space. If you still want them to look cohesive, stick to a color palette. 
38. Layer your rugs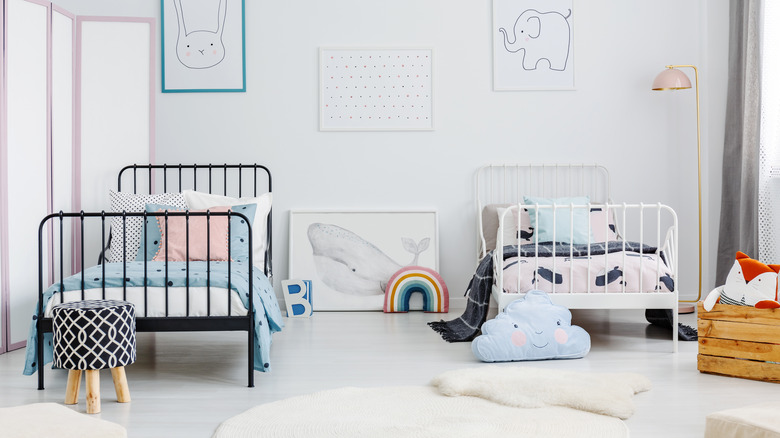 Photographee.eu/Shutterstock
Layering multiple rugs can also add more patterns to your space. Or, it can kick the coziness appeal up a notch, as the two white rugs did to the pictured room.
39. Decide on an accent color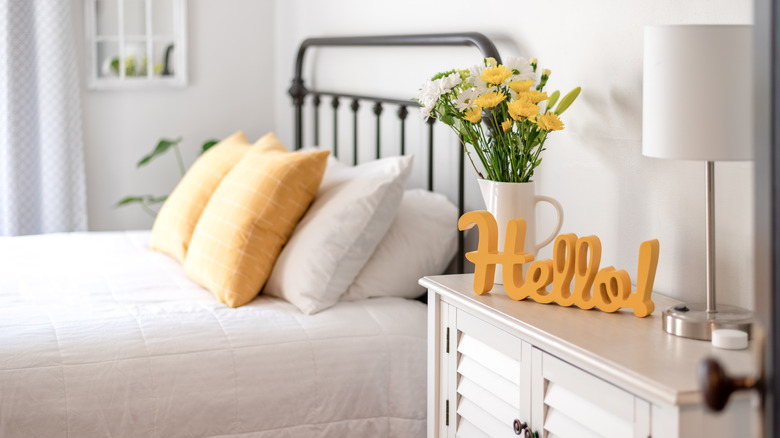 Kristen Prahl/Shutterstock
In a neutral space, think about adding one bold accent color, which will give your room life without making it look chaotic. 
40. Build from the ground up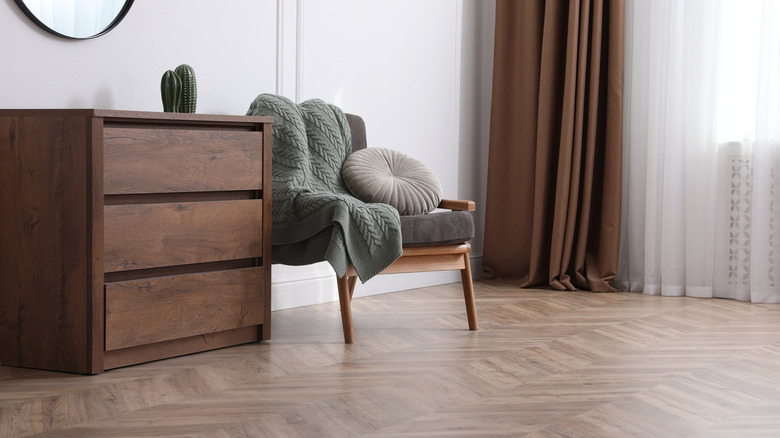 New Africa/Shutterstock
If you're completely redesigning a space, think about building it from the ground up. In other words, start with the flooring, wall color, lights, and smaller pieces like furniture and decorations. 
41. Create interest with colored furniture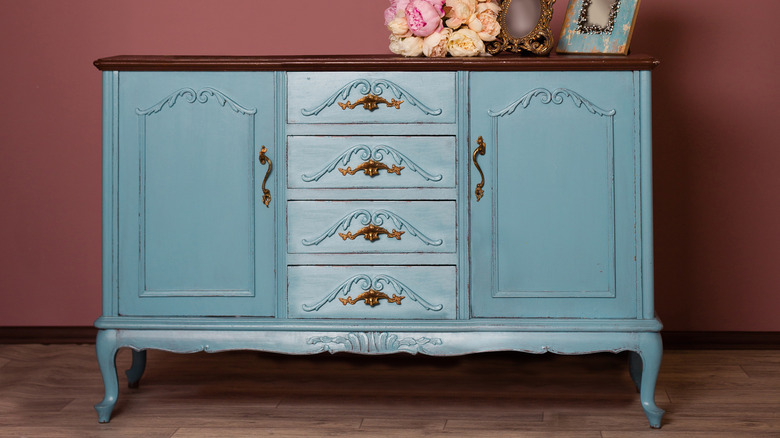 JasminkaM/Shutterstock
You could give an old furniture piece a new life by painting it a bold color. A colored piece would make a statement in a neutral space. 
42. Include multiple side tables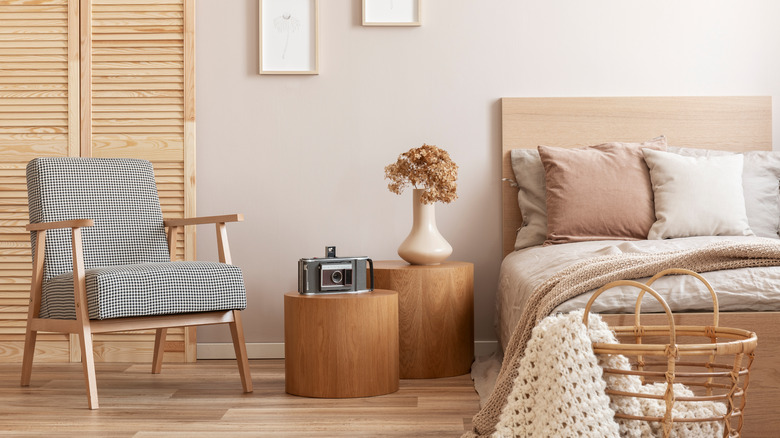 Photographee.eu/Shutterstock
Add multiple side tables of varying heights beside one another for a layered and interesting look in the bedroom or living room. 
43. Use wreaths year round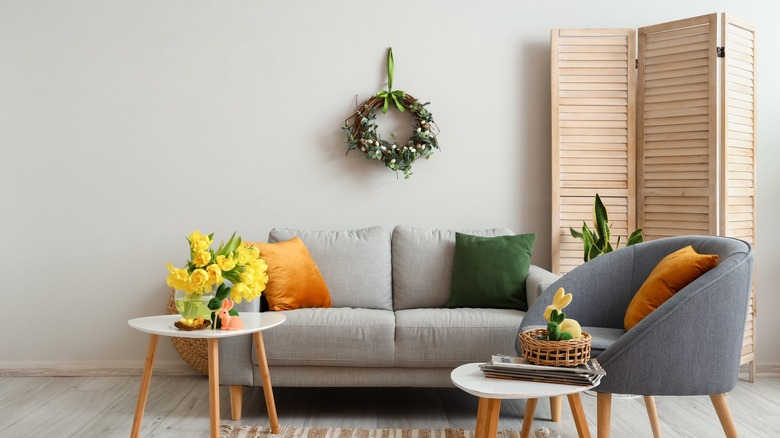 Pixel-Shot/Shutterstock
Wreaths are typically employed in décor during the holiday season. However, they can actually be used year-round. Hang some floral wreaths to add more color and texture. 
44. Place open shelving in front of a window
Breadmaker/Shutterstock
Open shelves are a staple of farmhouses and some modern kitchens. Placing them in front of a window can give them a unique look. 
45. Hang a fruit basket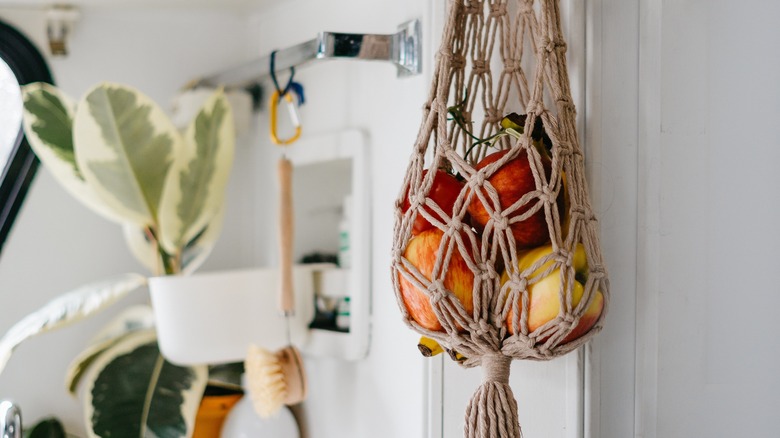 Maddy Greenwood/Shutterstock
For a boho-inspired kitchen, hang a fruit basket. Not only is this functional, but it also adds an interesting texture. 
46. Lay a runner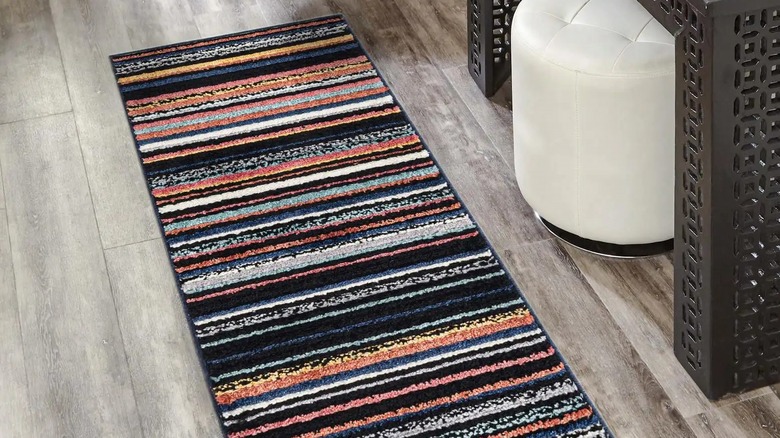 DesignStock09/Shutterstock
Runners don't only have to be installed in the hallway. In fact, they can be used anywhere you desire, like in the kitchen, in the bathroom, or front of a desk. 
47. Include personal items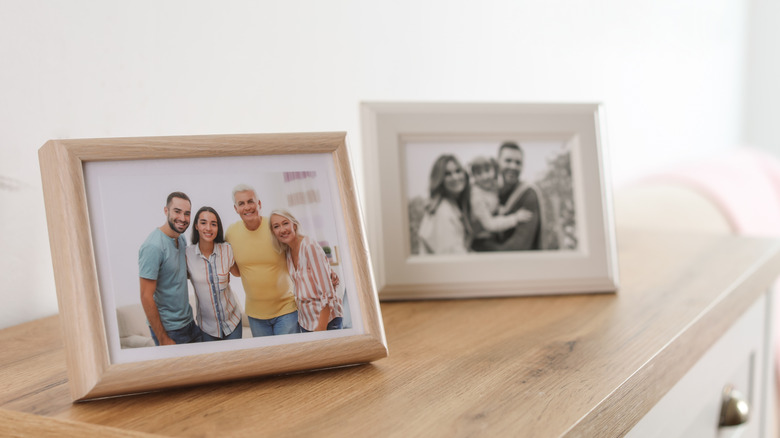 New Africa/Shutterstock
Personal items will make the space feel more like home — these pieces will always be important to you. Place family portraits around your living spaces. 
48. Add multiple textured vases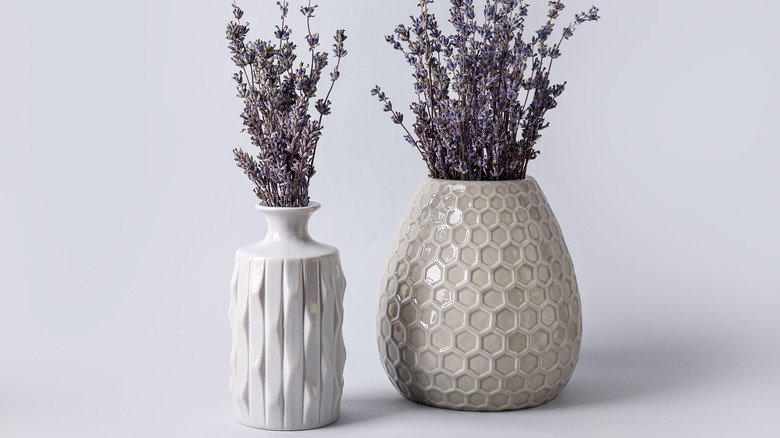 Pixel-Shot/Shutterstock
Decorating with different vases beside one another can highlight their various textures, colors, and unique styles. 
49. Use storage crates as shelving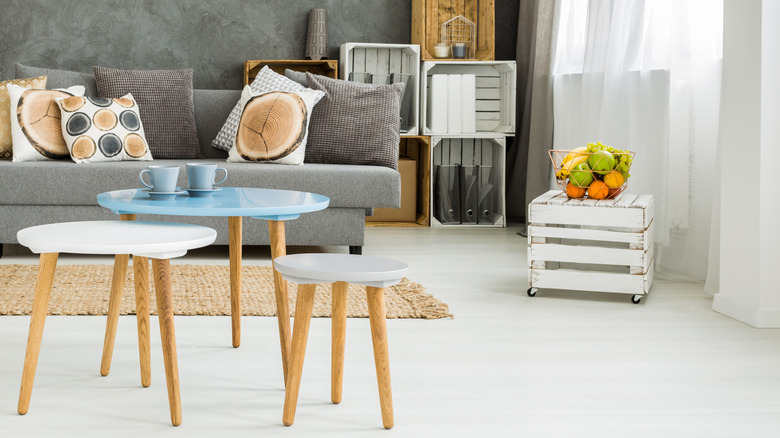 Photographee.eu/Shutterstock
Storage crates could be turned on their side and stacked to create attractive shelving in a space. 
50. Add warmth with earthy colors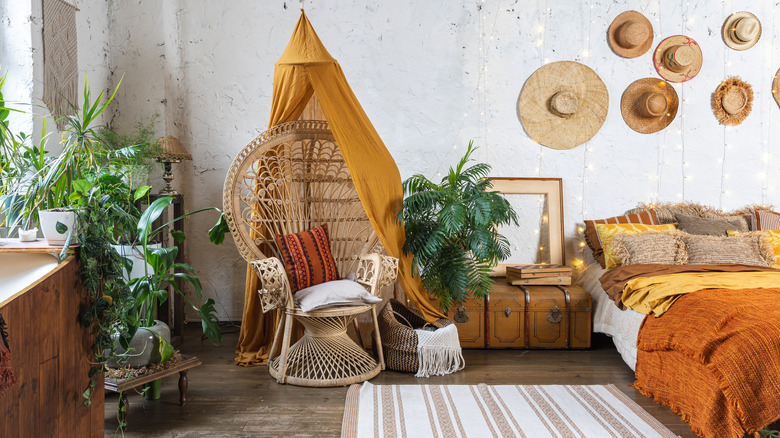 brizmaker/Shutterstock
Adding earthy tones, like mustard yellows, terracottas, and browns to a neutral space will give it a bohemian feel. 
51. Hang decorative bags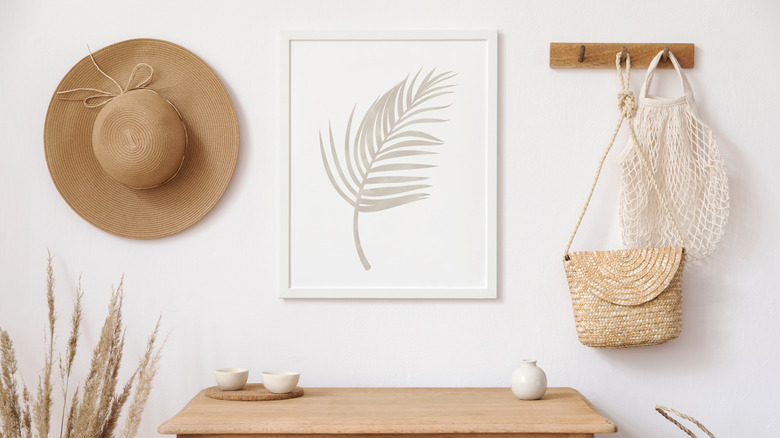 Followtheflow/Shutterstock
Bags could also be hung on a wall, and this will not only give them the perfect storage space but also add color and texture to a room. 
52. Add a wooden tray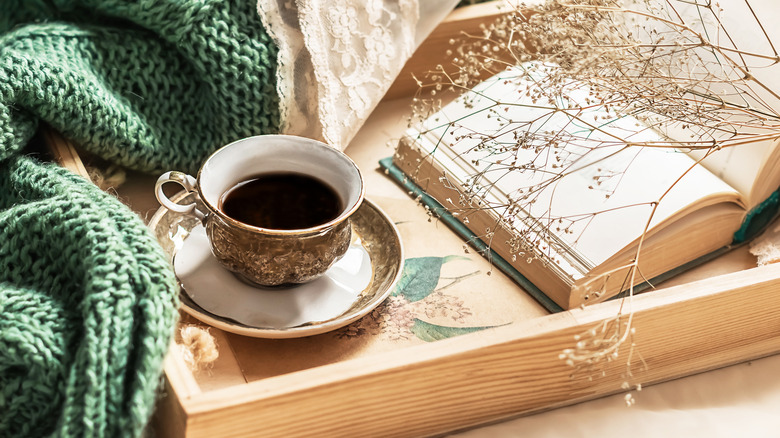 T.Miahkova/Shutterstock
A wooden tray in the bedroom or living room will contain your loose items and add a natural element to your space. 
53. Use identical clothes hangers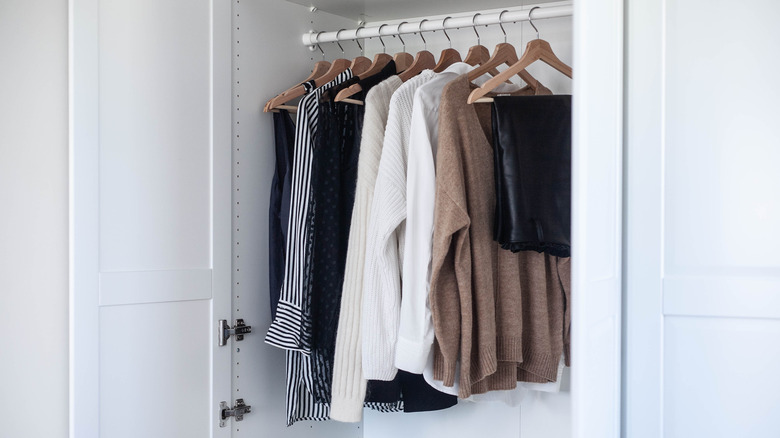 Ivchenko Evgeniya/Shutterstock
To revamp your closet, make sure all your hangers match. The best hangers to display your clothes are the wooden options. 
54. Organize with a rolling cart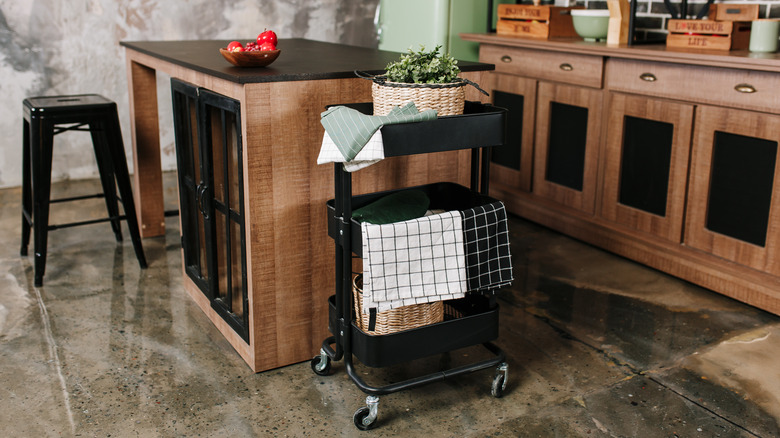 Oksana.Bondar/Shutterstock
A rolling cart has a number of unique uses. It could hold extra dishes in the kitchen, organize cleaning supplies in the closet, or store toiletries in the bathroom. It's a great way to add storage to any space. 
55. Mix different metals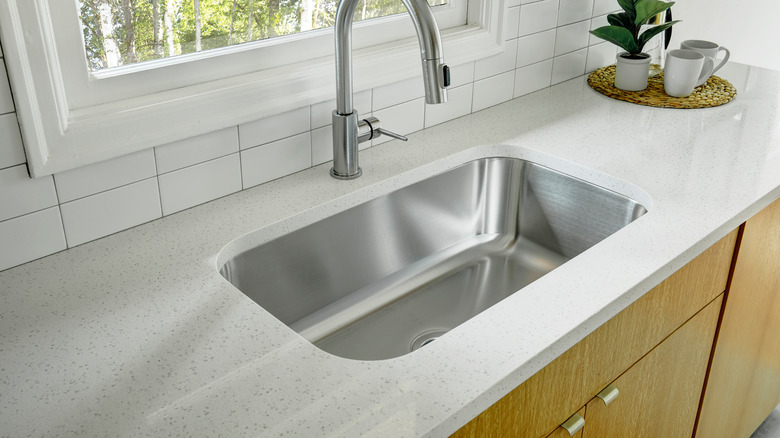 David Papazian/Shutterstock
Mixing metals can add more visual interest as well. This kitchen has a silver faucet, and gold cabinet handles. 
56. Use a ladder as a plant stand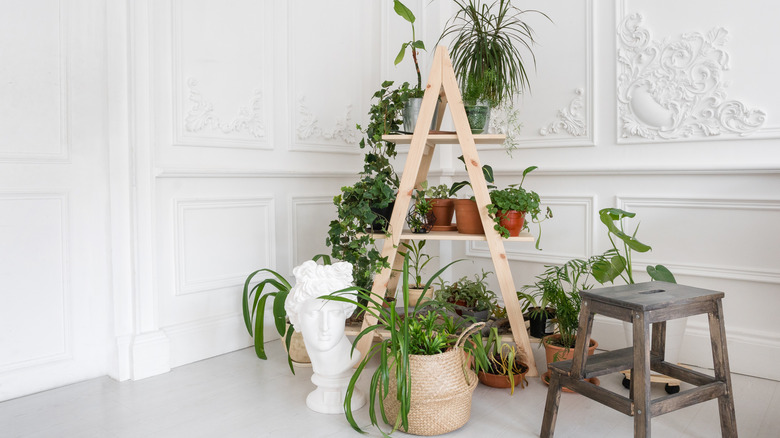 Fusionstudio/Shutterstock
A ladder could be transformed into the perfect plant stand to create a fun, tiered look. 
57. Hang wicker baskets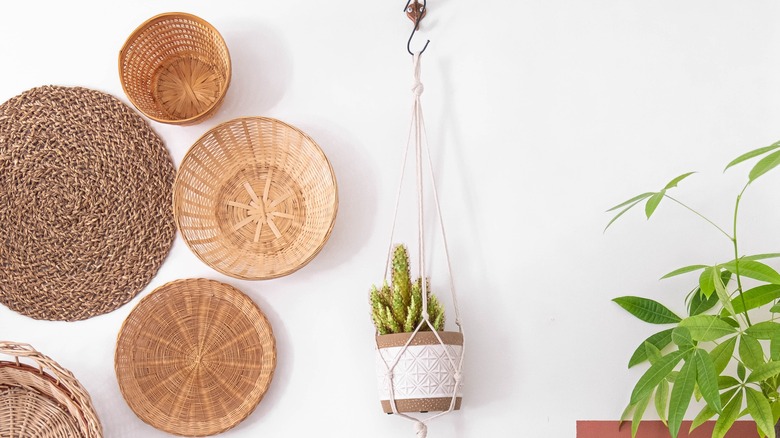 TippyTortue/Shutterstock
Hanging shallow wicker baskets on the wall can add natural elements and the appeal of soft round edges to any space. 
58. Mix dining room chairs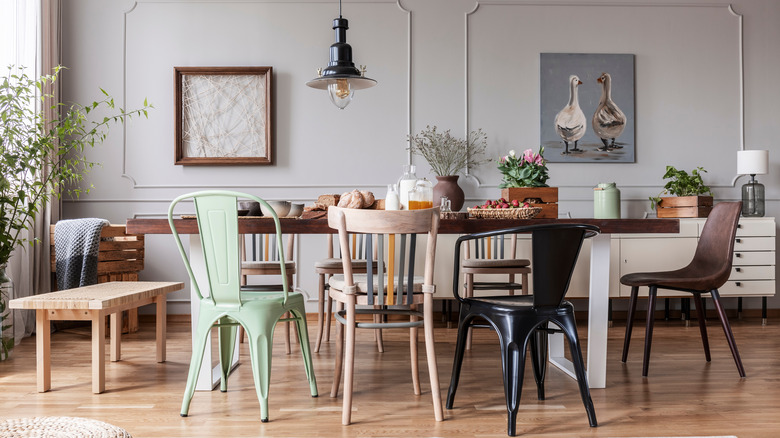 Photographee.eu/Shutterstock
Mixing dining room chairs can give a space an eclectic feel. You could also add a long bench to maximize seating. 
59. Add unique candle holders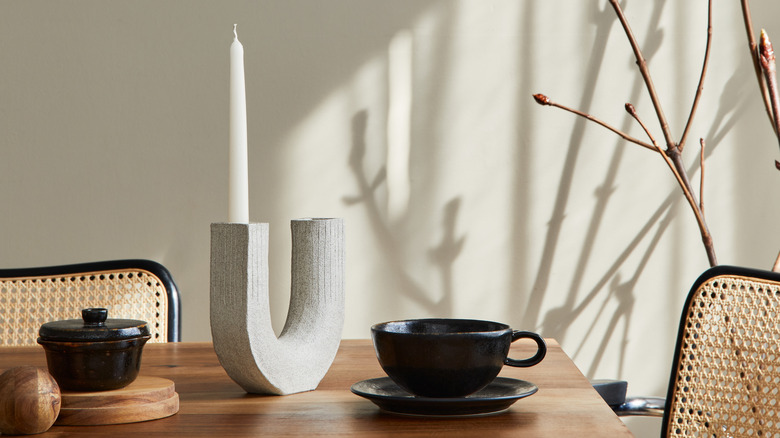 Followtheflow/Shutterstock
A unique candle holder would add personality to a modern home. This candle holder is in a striking "U" shape. 
60. Center your dining room lighting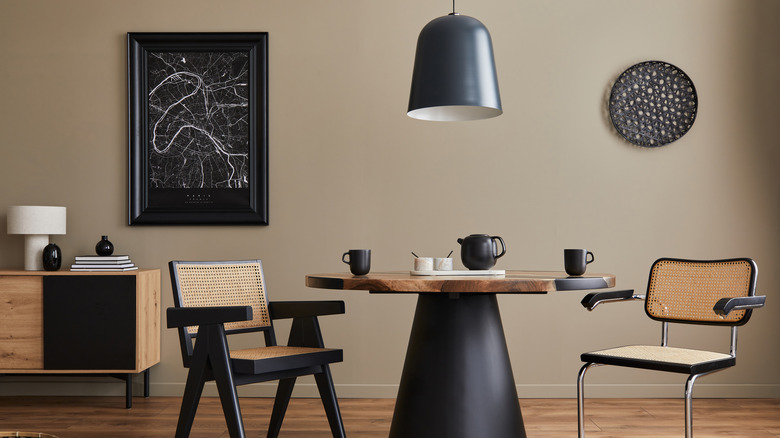 Followtheflow/Shutterstock
Making sure your dining room lighting is centered above your table is important. If it's not, you could move the table, the light fixture, or extend the light's cord and loop it around a hook. 
61. Add a shelf above your bed frame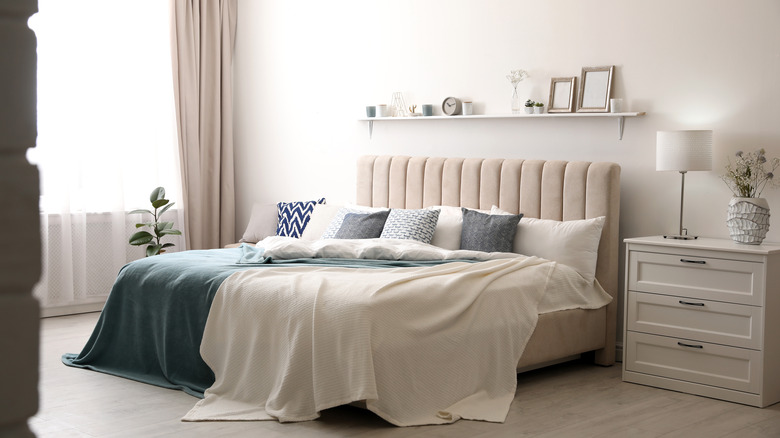 New Africa/Shutterstock
To create a place to decorate with candles, vases, and picture frames in the bedroom, install a hanging shelf above your headboard. 
62. Layer your curtains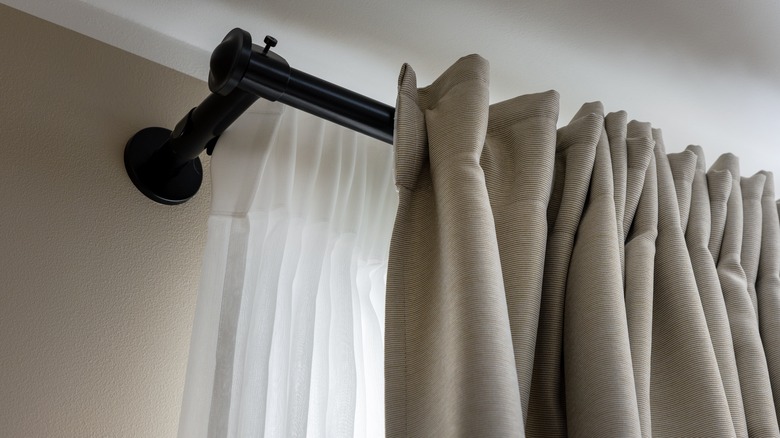 ronstik/Shutterstock
Adding two layers of curtains to your windows, one sheer and one opaque will allow you the option of no natural light or just a little natural light. 
63. Buy decorative kitchen towels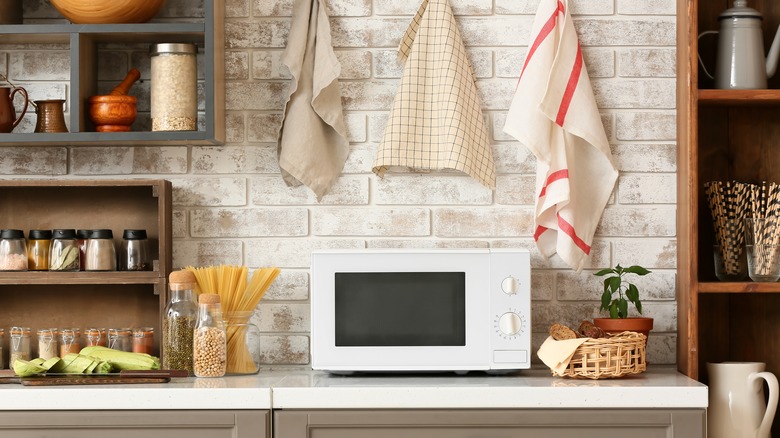 Pixel-Shot/Shutterstock
Instead of displaying the towels you use to dry dishes, opt for the decorative variety instead. These are typically less absorbent because they're primarily used to elevate a kitchen design. 
64. Change your frames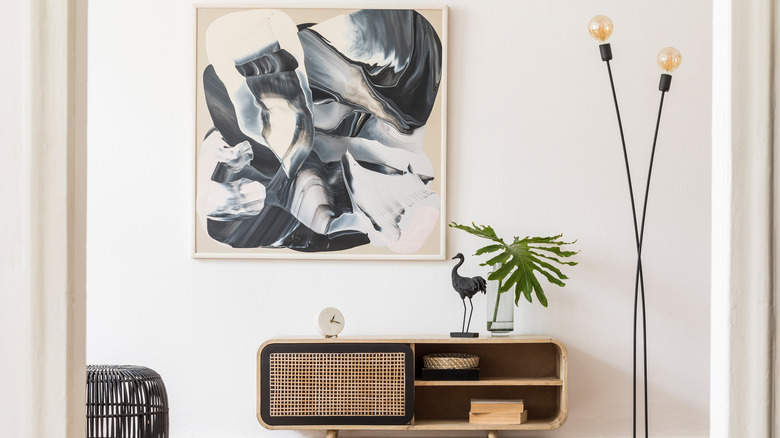 Followtheflow/Shutterstock
Replacing your picture frames can enhance the image or help it look more cohesive in a space. 
65. Start with neutral pieces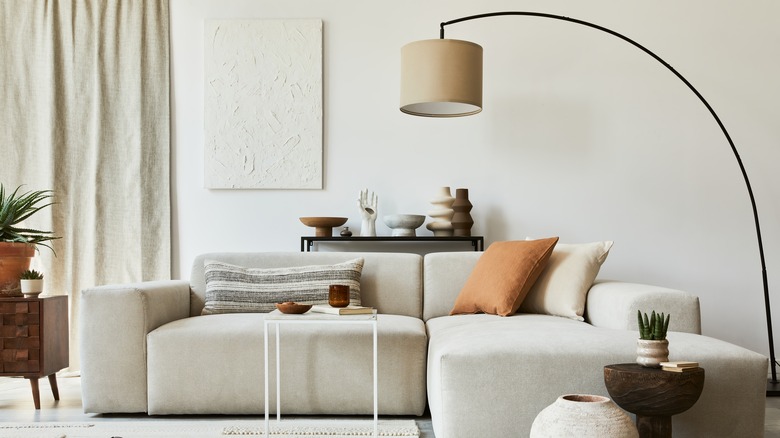 Followtheflow/Shutterstock
Starting with neutral pieces and adding small colorful accents is popular in modern home décor. 
66. Layer throw pillows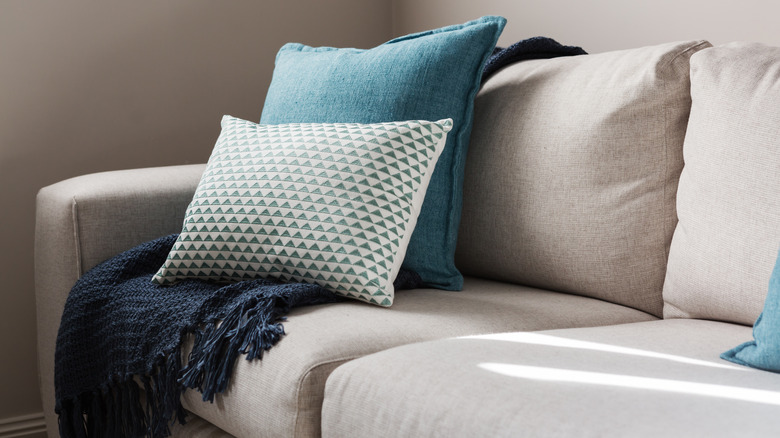 Jodie Johnson/Shutterstock
Layering multiple throw pillows will allow you to add more color and dimension to your space. 
67. Add a hanging chair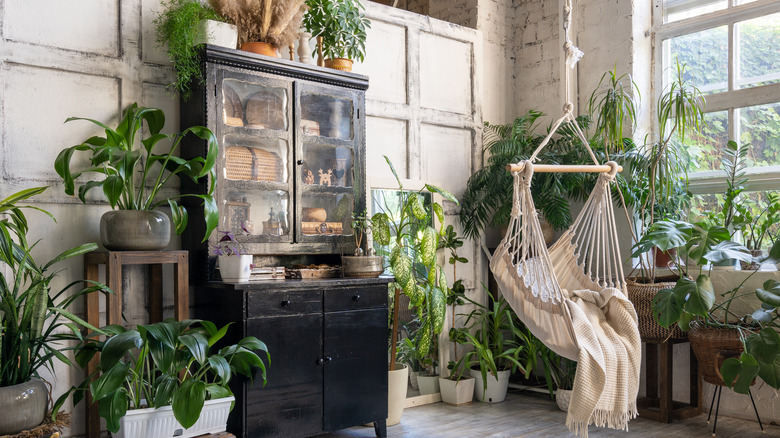 brizmaker/Shutterstock
A hanging chair will give a room a whimsical and cozy feel — hanging chairs like this one look extra boho. 
68. Paint your kitchen cabinets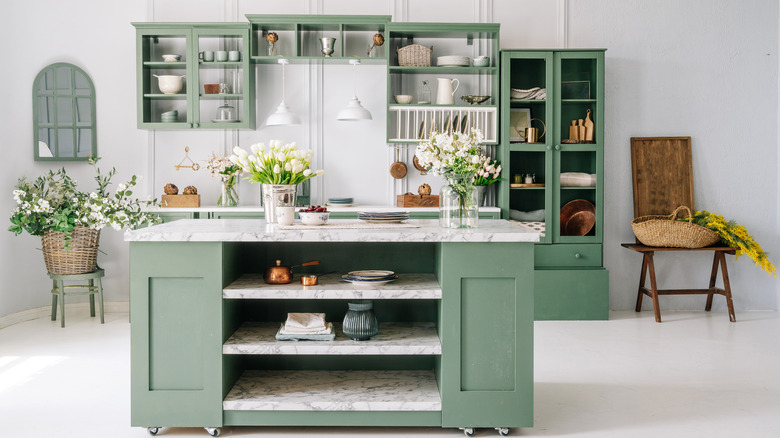 brizmaker/Shutterstock
Painting your kitchen cabinets a bold color will give your cooking space a new and exciting appearance. 
69. Install hexagonal shelves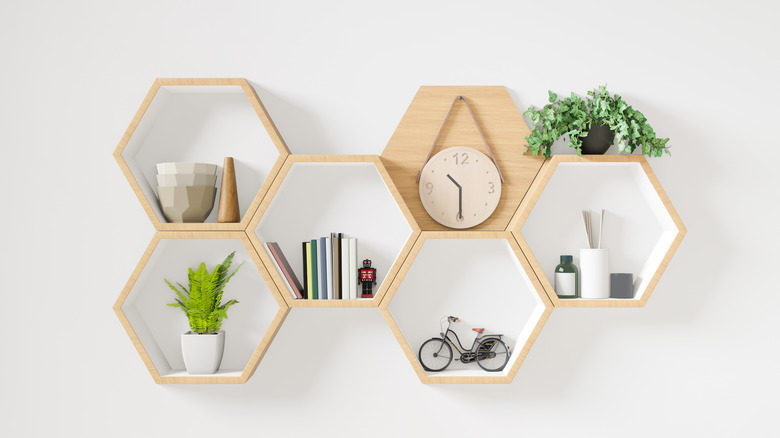 NukTD/Shutterstock
Hexagonal shelves stand out in a space and can be used to store small knick-knacks, plants, or books. 
70. Mix and match your furniture pieces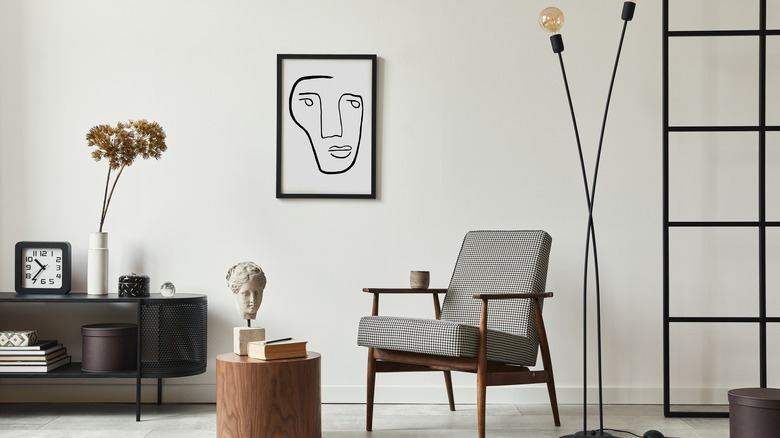 Followtheflow/Shutterstock
Instead of buying furniture sets, try mixing and matching different pieces together for a cohesive but unique design.